The sports field can be an uncomfortable place for many LGBTQI+ people.
But in Australia, an obscure game is beginning to develop among the gay and lesbian community.
Founded in Sydney during the first year of the COVID pandemic, the Emerald City Kickball League is now one of the fastest growing community sports leagues.
"Even the word competition is maybe a bit of a stretch," says ECK co-founder James Edward Shields III, better known as JES on the football field.
The toxic masculinity and overemphasis on physical ability associated with other sports leagues means that many participants have previously avoided organized sports.
"Many from our rainbow community don't feel safe in that space. And the one thing they really just want is connection, activity and sunshine and the ability to meet and greet people they haven't met."
With a low barrier to entry, either skill-wise or financially, kickball is the best fit.
At the December tournament at Rushcutters Bay in Sydney's east, more than 100 players warm up, organizers carry cards and team photos are taken. It's like any other community sporting event, but with more tutus and wigs.
"Kickball is a place where you can come as you are," says JES. "Some people come here just to play sports, others don't care about sports."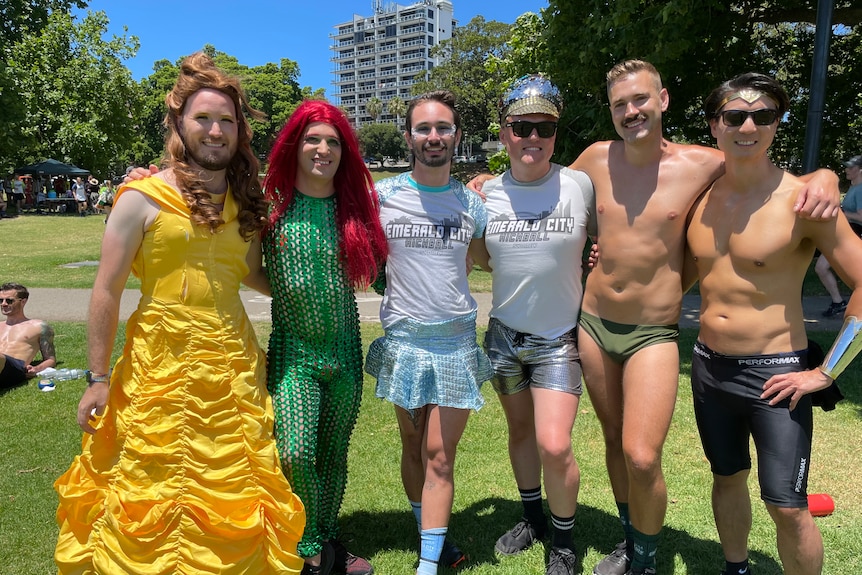 Players are encouraged to push their limits, but there is no pressure.
"The big red ball is a safe space" for all body shapes and abilities, says JES.
Baseball and dodgeball
Although popular in the United States as a social sport, kickball is largely unknown to Australians.
Think baseball without bats and a much bigger ball. There are four bases arranged in a diamond and a pitcher who rolls the ball toward the batter instead of the batter.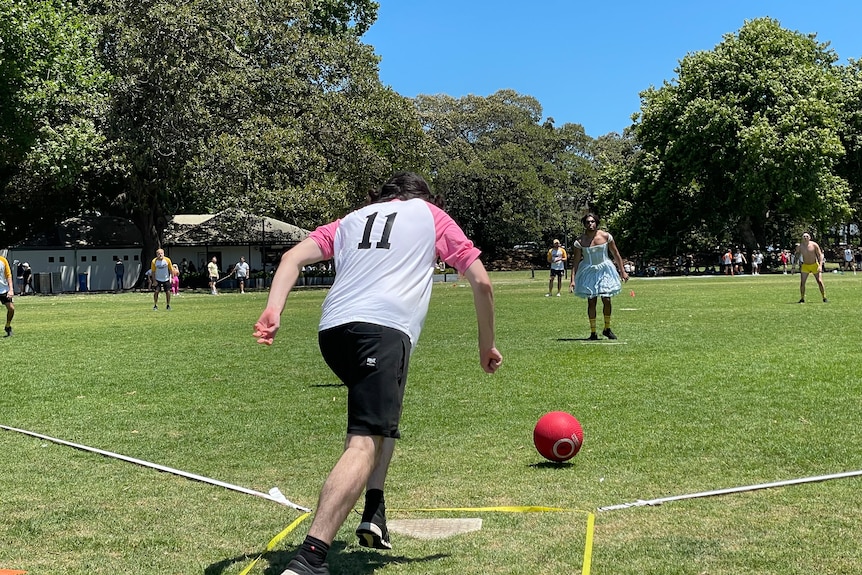 Co-founder David Parsons, who first played in San Diego in 2018 when he was visiting his American partner, explains that there are also elements of dodgeball.
"If someone catches the ball and then throws it at a person and hits them, then that person is out, so that adds an element of fun and creativity," he says.
Each game lasts about 30 minutes and the team with the most home runs wins.
In this tournament, David Nguyen leads the Leave Britney Maroon team.
Nguyen, who also played other sports, notes the absence of hyper-competitiveness and much less focus on athletic ability.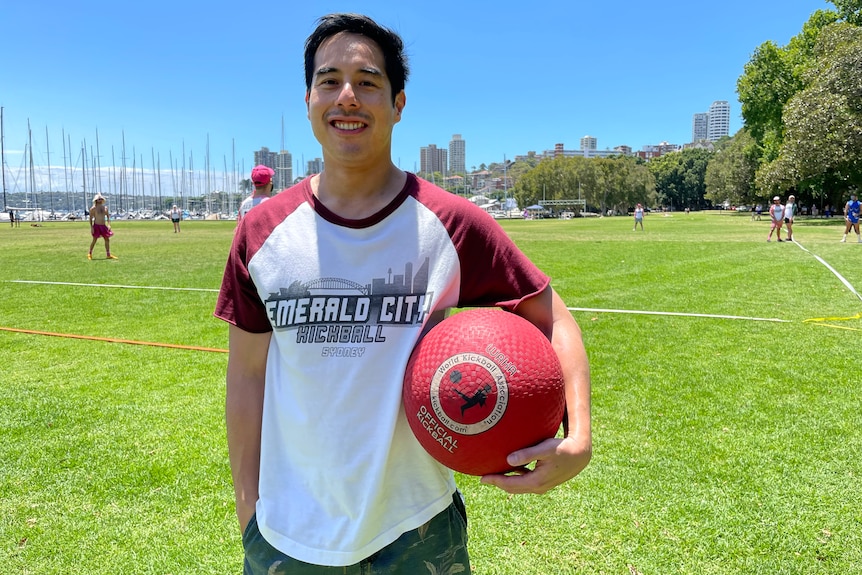 "For me, it's a really unique sporting experience. It's an LGBTQIA+ controlled space and so it's really tailored to the queer experience," he says.
"We don't just emphasize sporting achievements, we also emphasize values ​​such as inclusiveness, support and spirit."
During the pandemic, it was often the only opportunity to meet other people in real life. Now that parties are back and bars and clubs are open again, it has continued to grow as an alternative way of socializing.
"Every Sunday I show up and I know there's going to be 100 people here having a great time. I think playing sports with a team is a really authentic and natural way to meet people," says Nguyen.
The action is overseen by referee Malcolm Jull. With a whistle around his neck and an Akubra cap for protection, he has a "tough but fair" approach.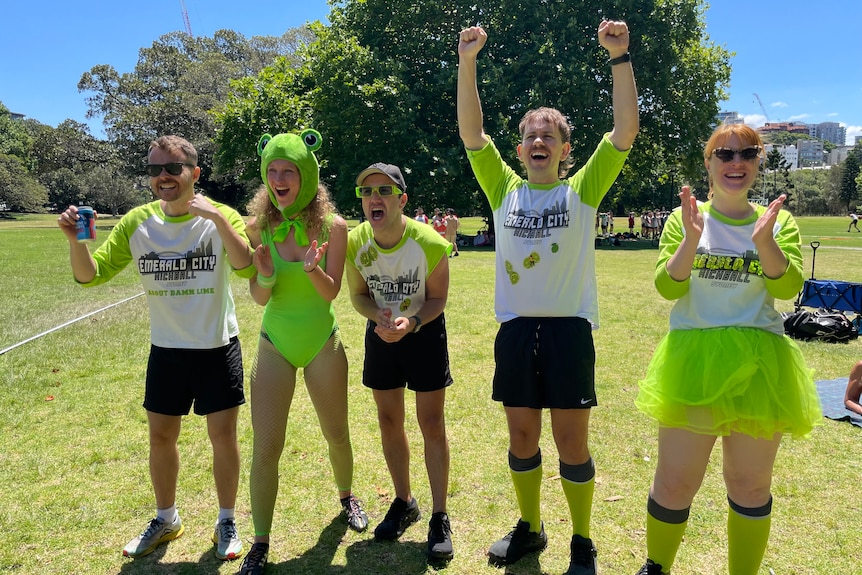 When he joined, he didn't know what kickball was, but he soon became interested in how it worked and what the rules were.
"I like to follow the rules, but not completely. I think the fun should come first, and the rules … there's a little bit of flexibility to make sure it's fair," he says.
Without playing and refereeing football, he says, the pandemic would have been much more difficult.
"It's just the thought that you can build community and build friendships and meet people off the screen and I think that's really, really powerful."
Expansion plans
When it launched in September 2020, the league had four 60-man teams. It has now grown to 14 teams and expanded to Perth this year.
Canberra is next and organizers have dreams of creating a South Pacific league.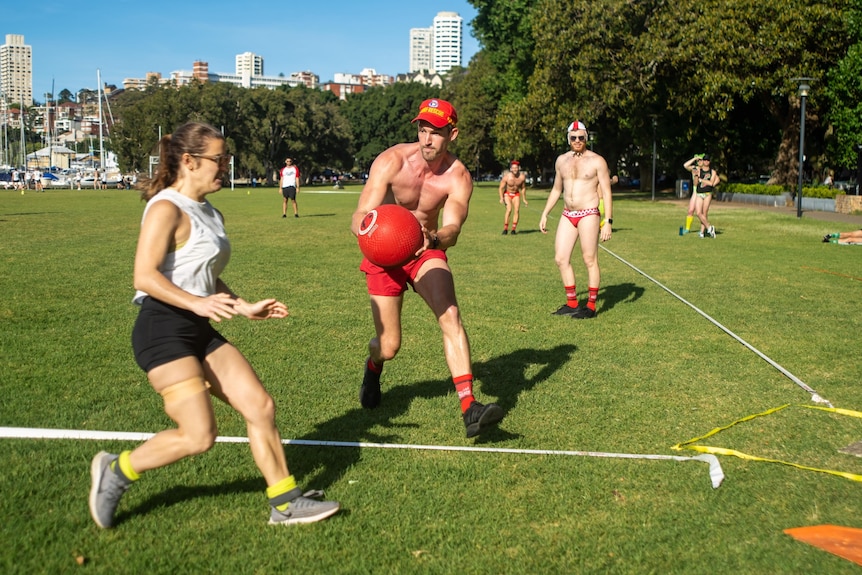 JES says there is a gap in the sports market for truly inclusive sports.
"I've played many other high-intensity sports and there's always been something missing from that relationship with the sports community," he says.
During WorldPride 2023, when thousands of people are expected to flock to Sydney, a futsal tournament will be held over two days.
Parsons says it won't be an average tournament.
"We're ready to really welcome the world to Australia to celebrate what we've done here."
ABCQueer
A monthly newsletter for LGBTQIA+ people and their allies, featuring stories from real people and their queer experiences.