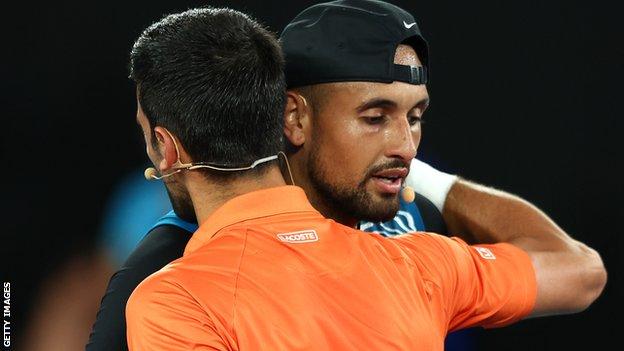 Dates:
January 16-29
place:
Melbourne Park
Coverage:
Daily radio commentary on the 5 Sports Extra/BBC Sport website and app, with selected live text commentary and match reports on the website and app
Novak Djokovic received a warm welcome on his first public return to the Australian Open for a practice match with home favorite Nick Kyrgios.
The 35-year-old Serbian was deported before last year's tournament after a row over his Covid-19 vaccination status divided public opinion.
"I'm very happy. Thank you very much," Djokovic said after walking to Rod Laver Arena to a rapturous reception.
"I feel a bit emotional. I was looking forward to returning to this court."
Djokovic returned to Australia last week and received a warm welcome when he played in Adelaide, where he won the ATP 250 tournament.
But it was fascinating how he would be received back in Melbourne, which has endured some of the toughest coronavirus quarantines in the world.
In a city with a large Serbian population, hundreds wore the colors of the Balkan nation as Djokovic set foot there for the first time since 2020.
Earlier this week, Australian Open tournament director Craig Tiley asked fans to be respectful, warning they would be kicked out of Melbourne Park if they booed Djokovic.
The former world number one's name was met with loud cheers when it was read out – along with several whistles – before he entered the court.
Only a deafening roar could be heard as he walked towards the pitch, where the nine-time champion enjoyed some of his greatest success.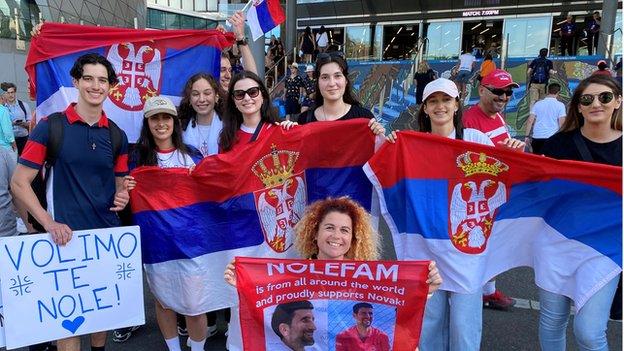 The warm-up event raised money for charity and the 15,000-capacity Rod Laver Arena sold out in 58 minutes when tickets went on sale on Tuesday.
Djokovic, who is going for a record 10th title and a record 22nd men's major, has been nursing a knee injury but said before the exhibition that he was "feeling good".
He and Kyrgios split two sets, which went from first to four points, which offered some insight into their preparations for the Australian Open.
The pair were joined on court by wheelchair players David Wagner and Heath Davidson, and then two junior players, in the deciding tie-break which was won by Team Kyrgios.
"It's a great feeling to be back in Australia and back in Melbourne. It's the court where I made the best memories in my tennis career," said Djokovic, who plays Spain's Roberto Carballes Baena in his first-round match on Tuesday.
How do Melburnians feel a year later?
Djokovic was not allowed to play at the first Grand Slam of the season last year after 11 dramatic and chaotic days, which ended with his deportation from Australia.
He was not vaccinated against Covid-19, but was given a medical exemption to play.
That announcement sparked public outrage, leading to accusations that Djokovic had received preferential treatment.
But there was also anger at the way he was treated by the Australian government, especially after he was detained on arrival in Melbourne.
In November, Djokovic was cleared to play at this year's Australian Open when the Australian government overturned his visa ban.
A year later, some of those who arrived at Rod Laver Arena on Friday were still divided over Djokovic's treatment.
"I thought the anger about him coming here was justified," Melbourne resident Jen Sykes said. Her son Alastair felt the whole saga was "more of a failure of the government", which was under Prime Minister Scott Morrison at the time.
Milan Ljubinović, born in Serbia, who lives in Melbourne and has been in Australia for almost 25 years, said that he still stands by his opinion that Djokovic was treated unfairly.
"Novak did what he was told; they told him he could come play even though he wasn't vaccinated," he said.
How 11 days of chaos unfolded last year
January 4: The Serbian announced on social networks that he received a medical exemption, approved by two independent medical commissions organized by Tennis Australia and Victoria State, to enter the country and play at the Australian Open.
January 5: In a dramatic move, Djokovic's visa was canceled when he landed at Melbourne's Tullamarine Airport and Australian Border Force detained him at an immigration hotel.
January 6: Serbian President Aleksandar Vučić accused Australia of "harassing" Djokovic – which the national government denied – and Djokovic's family said the player was being treated like a "terrorist in Guantanamo".
January 10: The decision to cancel Djokovic's visa was overturned for procedural reasons and he was released from the detention hotel.
January 14: Australian Immigration Minister Alex Hawke again canceled Djokovic's visa, saying it was in the public interest because it could fuel anti-vaccination sentiment.
January 16: A three-member court panel refused to overturn the decision in the second appeal procedure by Đoković, who was forced to leave the country.