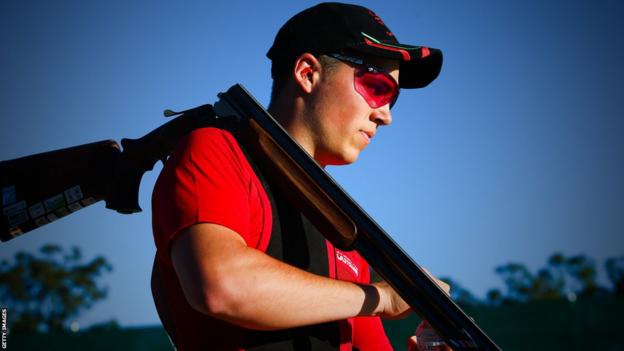 Welsh skeet shooter Ben Llewellin is hoping to realize his Olympic dream after the best season of his life.
The Haverfordwest marksman also took European individual bronze.
Llewellin is now determined to defend those titles in 2023, as well as earn a place in the quota for Paris 2024 – his first Olympics.
"The goal of winning medals at both the Commonwealth Games and the Olympics is what keeps me training in the wind and rain, which is probably most days in Wales," he told BBC Sport Wales.
"I ticked the box at the CWG so now I have to tick the box at the Olympics."
Llewellin won silver at Australia's Gold Coast Commonwealth in 2018, but his event was absent in Birmingham last summer.
"The Commonwealth Games is such an exciting event to be able to represent Wales, so when that was pulled it was almost like the main goal for that year was just taken off the table," Llewellin said.
"I was a bit bitter that I didn't get another chance to represent Wales."
Despite the disappointment of not being able to compete in the 'home games', the extension allowed Llewellin to fully prepare for the European and World Championships, where he enjoyed fruitful returns.
"The individual medals are the ones that give you satisfaction for all the hard work you've put in," he said.
"When you win a team medal, it's almost like a different element of satisfaction. It means two or three of you really came together and performed as a joint effort that day."
The Welshman is credited with switching weapons last season with his improved performances.
"At the beginning of the year I competed in a few events and it was just getting a little feel for things," Llewellin said.
"By about the middle of the year it kind of clicked, the results were developing nicely, soon followed by loads of medals which is what we're all looking for."
Now Llewellin is turning his attention to the new season as he looks to continue his momentum.
He will shoot the individual skeet in the first World Cup race of the year in Rabat, Morocco, while his Welsh compatriot Georgina Roberts takes to the women's trap next week.
"There was a huge amount of focus on peaking at the right time so I think that's now part of putting all the work into good practice," Llewellin added.
Quotas for the 2024 Olympics are available at the European Games in the spring, as well as the European Championships and World Championships later in the year.