VADO, NM — Bobby Pierce needed a moment to compose himself before discussing his victory in Sunday night's 50-lap Rio Grande Waste Services Wild West Shootout at Vado Speedway Park.
Emerging victorious in a frenetic race where he passed NASCAR Cup Series star Kyle Larson in the closing laps, then celebrated by shouting "Let's go!" twice certainly got a lot out of the 26-year-old standout from Oakwood, Ill.
"After the slider and the screaming," Pierce told FloRacing reporter Trenton Berry, "I'm out of breath."
Wild West Shootout 2023 at Vado Speedway Park
Indeed, Pierce earned a $25,000 first-place check for his second win in the last three events of the six-race miniseries. He lost the lead three times but kept fighting back, finally regaining command from Mike Marlar of Winfield, Tenn., on lap 43, then fending off fierce challenges from Larson of Elk Grove, Calif., to secure the checkered flag.
Pierce crossed the finish line 1.159 seconds ahead of Larson in a wild race that included six lead changes among the three drivers. Marlar, who led laps 34-42, settled for third with Stormy Scott of Las Cruces, NM, tallying fourth in the miniseries and Garrett Alberson, also of nearby Las Cruces, rounding out the top five.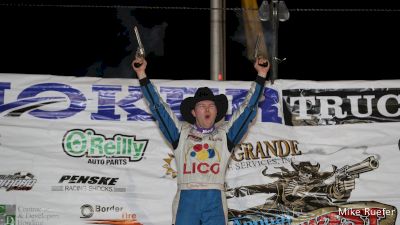 VIDEO: Bobby Pierce reacts to victory in Sunday's thrilling Wild West Shootout finale.
Jonathan Davenport of Blairsville, Ga., who led laps 2 and 4-17, failed to win the $25,000 WWS feature win bonus, finishing sixth after hitting the outside wall on lap 25 between turns one and two that cost several positions to never recover. But he was crowned the WWS points champion, duplicating the crown he previously held in 2016 (at USA Raceway in Tucson, Ariz.) and '21. (at Arizona Speedway outside of Phoenix).
The race's exciting trajectory was essentially set in the opening moments as front-row starters Pierce and Davenport swapped the lead on each of the first four laps – Pierce leading the first and third laps, Davenport advancing on the second and fourth tours.
The action at the front of the pack never stopped. Pierce rallied to take command from Davenport on lap 18 only to lose the position on lap 34 to Marlar, who moved up from the ninth starting spot as he tried to close out the WWS with back-to-back wins.
Pierce dropped to third when Larson followed Marlar past him, prompting him to wonder if he would accept missing out on the miniseries' biggest payday. But he continued to pull away and eventually slipped past Larson for second on lap 41 and got around the outside of Marlar out of turn four to get ahead on lap 43.
"When that caution came out (on lap 28) and I got passed (shortly after), I was a duck right now," Pierce said. "I thought I had (spin) one and two down, but I didn't know where to go in three and four. This made it really tricky. Tonight was a completely different track than any other night. Like, it changed (every night), but tonight was a lot different.
"But again, I thought, the tires I was on, I said, 'Just see if you can stay with them,' and if I can stay with them, I'd have a chance. So they caught some tangled cars, Mikey was caught inside, and . . .
Pierce took advantage of the opportunity to pass Marlar, pushing his Longhorn Race Car — the machine he debuted at the Jan. 7 WWS opener — into the lead. He had to survive relentless slide fire from Larson the rest of the way, including a decisive lap 47 exchange in which Pierce crossed Larson's inside turn four to stay ahead in what Pierce considered a Race of the Year candidate.
"It was so much fun," said Pierce, who recorded his eighth career win in the Wild West Shootout. "Kyle raced me so cleanly. It takes a guy who knows exactly where he's going to put his race car and knows exactly where I'm going to put my race car after that.
"This place has become a very, very good racetrack," he added, praising the 3/8-mile Vado oval. "When I first came here (two years ago) we didn't know how it would be. I like the shape and everything, but they had to iron out a few bugs, and when they figured things out, they did a really good job."
The 30-year-old Larson was disappointed to go winless yet again — his six WWS starts in the K&L Rumley Enterprises Longhorn included three second-place finishes and no worse than sixth — but he was still buzzing with enthusiasm.
"It was the most fun Late Model race I've ever been in," said Larson, who drove the iconic Rumley No. 6 in select Dirt Late Model events since the summer of 2020. "There were more lead changes in one race than in an entire season, so that was a lot of fun. Literally from start to finish, it was a battle between Bobby and JD and Marlar, and (also) there was Stormy (Scott).
"The lanes have changed quite a bit. I was pretty dedicated to the top most of the time, but the bottom was good in one and two and would kind of foul up the top of exit two. Like when Marlar took the lead I was able to stay with him and then it got too dirty. I went down for, I think, a lap and Bobby was there… so it was fun racing him. I feel like we both have very similar styles, which is just throwing eggs on the board and chasing.
"What a race, what a week of racing," he continued. "I mean, every night, apart from JD stomping on us the first night, was good. So much fun. I definitely can't wait for next year. This was definitely more fun than I expected, and I'm sure with all the races we've had at night, the nights out, the crowds will only grow."
Marlar joked after that race that Vad's owner, Royal Jones, cost him the win in the final.
"I'm mad at Royal," Marlar said, smiling at Jones during the post-race ceremony. "He made this racetrack so lively … lots of tracks, I'd probably win the race.
"It was a lot of fun," he continued. "It was great racing out there with Bobby, Kyle and Jonathan, everybody that's been in the business. There was a lot of it. I was racing with Bobby and I literally put the brakes on him right away on the back, so when I passed him I said, 'I'm good here, aren't I?' Then he brought me back."
Davenport, meanwhile, was a non-factor during the second half of the race, leaving him to settle for the WWS points title.
"We just really overdid it," Davenport said. "We were too tight from the start and then we cycled pretty hard there on the cushion (on lap 25) and I don't know if I bent something or not, but after that it just wasn't the same."
The feature was slowed by one caution flag on lap 28 when Johnny Scott of Las Cruces, NM, slowed while running 10th with a flat right rear tire.
The initial start of the race was delayed several laps as Late Model rookie Dillon McCowan of Urbana, Missouri, who was scheduled to start sixth, lost a wheel during the parade laps. His car was towed to the field and his crew attached a replacement, allowing him to start at the back of the field and finish 17th.