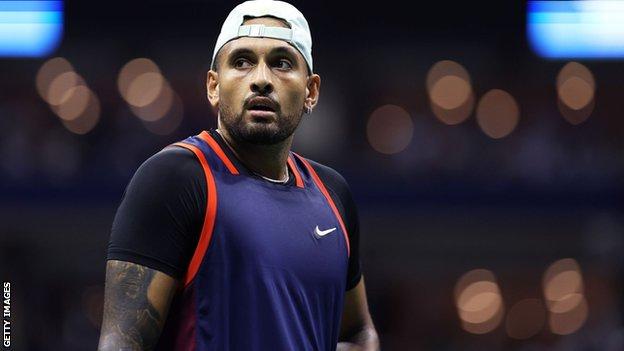 It was billed as tennis' Drive to Survive – an F1 documentary series that filmed die-hard fans and newcomers offstage the biggest moments with (some of) the biggest names.
The first five episodes Breakpoint dropped on Netflix — showing us, as top 10 player Taylor Fritz says, "how hard it really is to be a tennis player."
"You lose every week," says the American. "You have to be a very confident person to keep coming back."
Fritz is among the main stars of the series, which also features Nick Kyrgios talking about his drinking problems in his early 20s, and Ons Jabeur discussing the dilemmas female players face when they want to start a family.
Producer James Gay-Rees told BBC Sport that the show shows some of the loneliness of a player's life on tour.
"You often travel alone, stay in hotels alone, play alone," he said.
"Only one person wins the tournament. There are brief moments of joy amidst an ocean of regret and loss."
World number six Maria Sakkari said: "We don't have a normal way of life – that's a fact.
"This is a great opportunity for people who don't know tennis inside out to really see the fights."
'My life was simply out of control'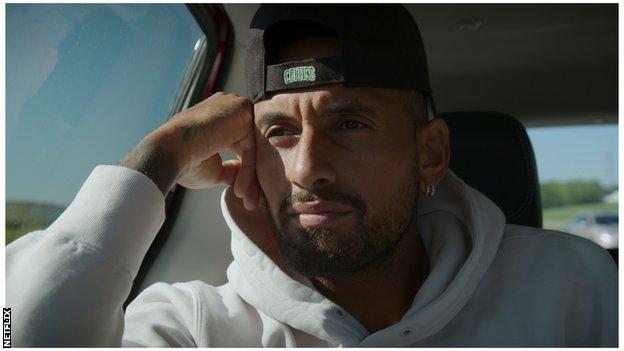 In the first episode of Break Point, we take a closer look at Kyrgios – the game's hottest star.
It's been almost nine years since the teenage Kyrgios shocked the world beating world number one Rafael Nadal at Wimbledon.
Now 27 and ranked 21st in the world, Kyrgios says that match changed "everything" for him.
"From that day on, the expectations to be the next big thing were huge," he recalls.
Despite early promise and undeniable talent, Kyrgios has yet to win a major singles title, and his occasional outbursts on and off the court have been met with bad press.
In the series, he describes unhealthy habits in his early 20s.
"Four, five years of my career were so chaotic," says the Australian. "My life was getting a bit out of control – I was drinking every night."
Kyrgios' manager and confidant Daniel Horsfall remembers tracking Kyrgios' location on his phone.
"One morning I would have to physically go and find where you were – which hotel you were in, whose house you stayed in – before the tournament, before the match," he says.
And Kyrgios is very open about how he has to manage his relationship with tennis.
"In terms of my mental health, I could never be one of those players who play all year again," he says.
'I couldn't sleep for three days'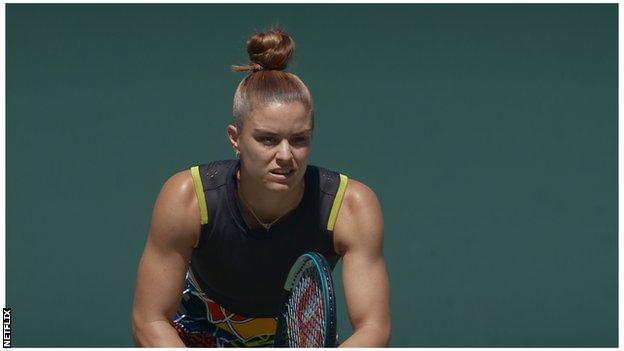 Sakkari's frustrating 2021 is also documented in the series.
The 27-year-old from Greece played in eight semi-finals that year and failed to advance in any of them.
"I was just struggling because I could see the finish line and then I wouldn't win the match," she says in the third episode.
"My thoughts would go so far into the match and then I just couldn't wrap my mind around it. I was too excited. I was almost there but not there at the same time."
Arguably the most painful of Sakkari's semifinal defeats was a match point loss to Barbora Krejcikova at the French Open.
I just didn't know how to deal with that situation, she says.
"I couldn't sleep for three days. I was just lying in bed, trying to sleep, but I was so nervous and so sad. It was hard for me to take it. I told my coaches I wanted to retire."
Sakkari returned just four days later and by March 2022 was ranked third in the world.
She told BBC Sport that she had to learn to accept losses.
"I know I can't win every week – there are only a few players who have really done it," she said.
"I know that I give my best on the court and that I am one of the best players in the world right now. I keep reminding myself of that."
'Women make a lot of sacrifices'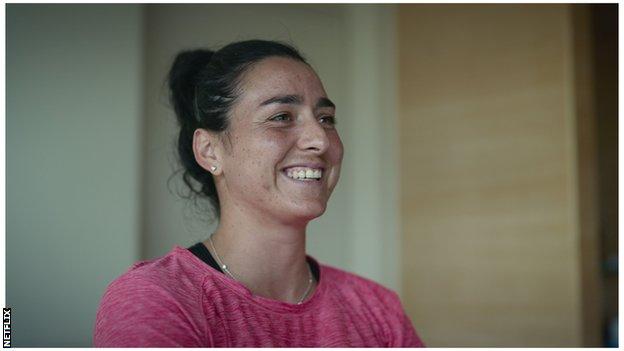 Jabeur, from Tunisia, is the second-ranked female player and the highest-ranked African and Arab player in history.
In the fourth episode, she talks about defying expectations as an Arab woman.
"I always believed I could be a professional tennis player, but a tennis player coming from Tunisia – that was a different thing," she says.
"People thought that I would stop playing tennis, that I would become a housewife, but I always believed in my dream."
Five-time Grand Slam champion Maria Sharapova praises Jabeur's achievements.
"To come from nowhere, with no resources and overcome all the obstacles – what that means for her country, for herself, for her family… it's incredible," she says.
Jabeur, 28, has ambitions to win a major title – and last year he reached the finals of Wimbledon and the US Open.
But she would also like to start a family.
Only three women have won a Grand Slam singles title after giving birth – Margaret Court, Evonne Goolagong and Kim Clijsters.
And Jabeur is well aware of the pressure women face in tennis.
"Women make a lot of sacrifices," she says. "If you want to have a child, you can't just go and have a child, you have to sacrifice maybe something you love – your family – for the sake of your career.
"I wish I was a man, you know – 'I want to have a baby – done'."
4. 'It was clear to me that if I had to play against Rafa, he wouldn't want me to win'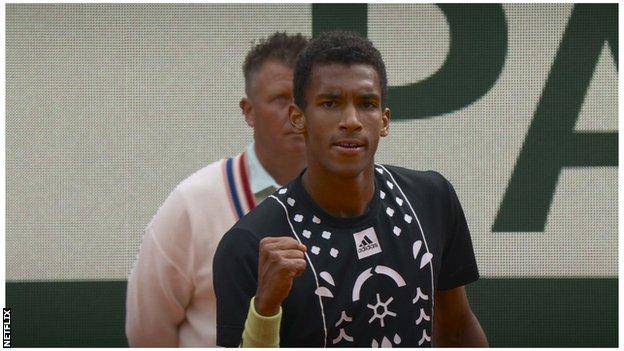 Felix Auger-Aliassime is a rising star in the world of tennis – the 22-year-old Canadian is ranked seventh in the world.
In 2021, he added Toni Nadal to his coaching team. Nadal is the uncle of the legendary Rafael, and he trained him from the age of three until 2017. In that period, Rafael won 16 major titles.
In May last year, Auger-Aliassime lost to Rafael at the French Open.
Before that match, Toni caused controversy by stating that he wanted his nephew to win. Auger-Aliassime says in the series that he considers it normal.
"It was very clear to me when we started working together that if I had to play Rafa, he wouldn't necessarily want me to win – like, he wouldn't want me to beat his nephew," he says.
Auger-Aliassime's agent, Bernard Duchesneau, says: "We respect the fact that it's a family matter. He doesn't want to put himself in a conflict of interest. It's all good. It's understandable for us."
'If I retired, I would think about it forever'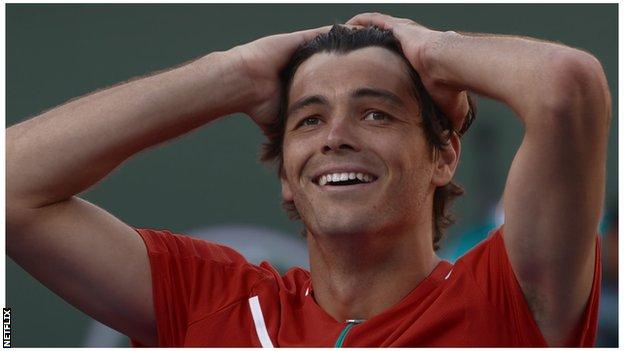 Fritz had an impressive 2022.
25 year old California native defeated Nadal to win the Masters in Indian Wells and climbed to eighth in the career world rankings.
In Break Point, Fritz's coach Paul Annacone – who previously coached legends Pete Sampras and Roger Federer – describes Fritz as "one of the toughest, strongest-willed players I've ever had."
We get a good illustration of Fritz's mentality in the third episode.
Fritz injures his ankle during his semi-final at Indian Wells against Andrey Rublev, putting his appearance in the final in jeopardy.
Dr Patrick St Pierre told him he might have a "small fracture".
"You could be causing more harm than good," he was told. "It's really hard for me to believe that numbing it is the right thing to do."
Despite these guidelines from Dr. St Pierre and his coaching team, Fritz stubbornly refuses to miss the final.
"I've been training my whole life for this moment," he says. "If I had retired, I would have been thinking about it forever."
Reflecting on that, he told BBC Sport: "It's difficult for anyone but me to know the level of pain I was feeling. To be sure I won't be able to play – it takes a lot. I didn't think there was any chance. The first thing was to numb the pain injections.
"Whenever you have that kind of pain, it's scary. I'm very stubborn – it's the biggest match of my life, it's a home tournament. There's no way I couldn't afford to play."
Fortunately for Fritz, there were no regrets as he defeated Nadal to become the first American to win at Indian Wells since Andre Agassi in 2001.