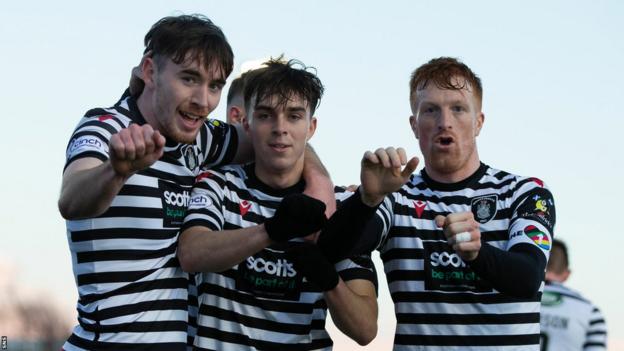 A Christmas message to Queen's Park fans, current and future, will stir the emotions of every romantic side.
"Scotland's oldest and oldest club, Queen's Park, which gave the world the modern, passing game, is on a uniquely remarkable journey," said Leeann Dempster, the club's chief executive.
"Going from amateur to professional status, back-to-back promotions have been achieved. And we're still in the big hunt this season."
In April 2021, the Spiders, under the leadership of Ray McKinnon, celebrated victory in League Two, the fourth division of Scotland. Owen Coyle's side are four points clear at the top of the Scottish Championship.
But can they do the unthinkable and win a third consecutive promotion to reach the Scottish Premier League?
"It's certainly possible," says Leanne Crichton, a former Scotland player whose work on the BBC's Scottish Championship coverage means she sees more games in the league than most.
"They're getting better as the season goes on. They've conceded a lot of goals but now they're unbeaten in eight games. A lot of that is down to an experienced manager like Owen Coyle."
Spiders 'no' – yet
Coyle, however, is cautious. He knows what it takes to win this league. Hibernian and Dundee United failed to bounce back from relegation.
Twenty years ago, Coyle and John Hughes together guided Falkirk to the then League One title, although the Bairns' old Brockville stadium did not meet league standards and so they remained in League Two.
The Queen's manager, then, could be forgiven for being distracted from his footballing role while redevelopment work continues at the club's stadium, Lesser Hampden, and his team play their home games at Stenhousemuir's Ochilview Park.
Last season, Queen's won 11 of their 36 games in the third division but did well in the play-offs. In this term, they already have one more win, with 12 wins and three draws from 20 games.
Saturday's 6-0 defeat of Cove Rangers at Balmoral Stadium put them four points clear of Ayr United and Dundee and six ahead of Partick Thistle.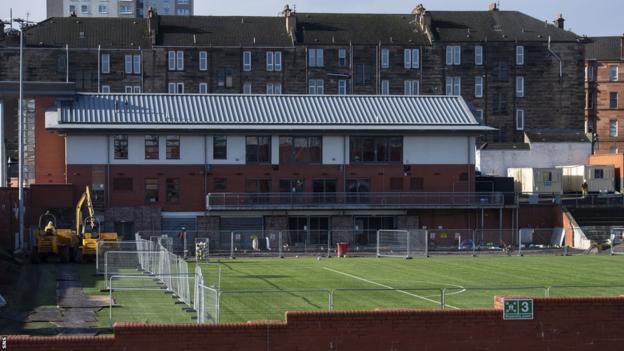 Arbroath have failed to maintain their wonderful but ill-fated push for promotion last season – they are ninth. Inverness Caledonian Thistle, another club that could have been expected to progress, are 10 points behind the teams from the south side of Glasgow.
"We're not there," Coyle said after that win over Cove, their eighth in a row in all competitions and one in which club captain Simon Murray scored four.
"We have a lot of things to add to our game. We are a young team and pleasing to the eye. We will push the boys on and pass on our experience to them."
A new era off the park for Queen's
Coyle, 56, can draw on two decades of experience in the hot seat after a career scoring goals for Airdrie, Bolton, Dundee United and Motherwell. St Johnstone was his last team, playing in attack at the age of 40.
His managerial experience began as player-manager in Falkirk's league-winning team in 2002-03. From there it was St Johnstone, then in England leading Burnley, Bolton, Wigan and Blackburn.
He also had stints with the Houston Dynamo and in India before arriving at Mount Florida, running lightly from the Gorbals where he grew up.
Willie Haughey, a peer and benefactor of the club who helped Queen's Park move from 152 years of amateurism to one that has been paying the players in the famous black and white jerseys for the last three years, also lived in that part of Glasgow.
Lord Haughey and Sir Tom Hunter gave the SFA half of the £5 million needed to buy Hampden from Queen's Park, a tiny club that plays in a cave-like stadium. That money helped fund building work at Lesser Hampden, which lies in its shadow.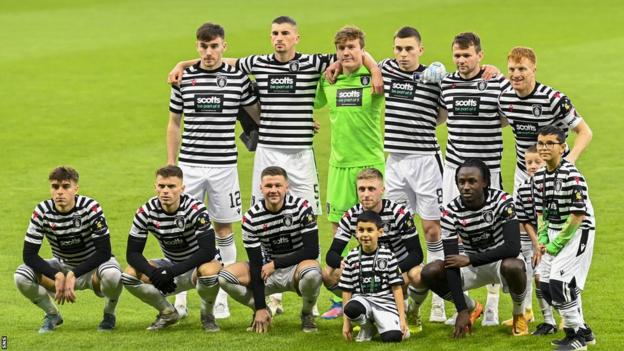 However, the team's performance seems to have outweighed the build, as although the club did not turn professional to stay in League Two, three promotions in as many seasons would make the neat little stadium too small to host Premiership teams.
If the club makes it to the first division, it will have to weigh the advantage of the home ground against the loss of income due to the rejection of away fans.
Those who run the club are driven by ambition. Dempster surprised many by leaving Premiership side Hibernian to subsequently join the lowly Spiders. Doubters should have paid more attention to her innovations and improvements at Motherwell and Easter Road.
"We want to continue making history," is her message. "We want to compete on the pitch. We want to do that by developing talented young footballers and giving them a brilliant platform and great and innovative coaching."
To help with this, they convinced Marijn Beuker to join from AZ Alkmaar as director of football. The mission will be to bring in talented youngsters and sustain the club by selling them. As a professional club, if they can produce another Andy Robertson, Queen's will now be properly paid.
The progress of their academy has also been recognized by being awarded elite status by the SFA.
"Look at young lad Healy," says Crichton. "He was released by Celtic when he was 12 and then played in the juniors with Arthurlie. But Queen's Park signed him long-term. It's been a really interesting journey."
So can they win promotion this season? Keith McAllister, a Queen's fan who hasn't missed a game in 44 years, has no doubts. "Yes, definitely. And the Scottish Cup; that's a big double this year."