INOn the wall of Christ Tshiunze's bedroom, discreetly hidden from prying eyes, is a list. One of the best players in world rugby has always written down his long-term goals, but what separates him from his peers is how many of them he has already achieved. "It brings me great joy that I have achieved everything I wanted so far," he murmurs. "Not many people my age can say that."
A full cap for Wales as a teenager, a professional contract with one of England's top clubs and – if his final exams at Exeter University allow – a degree in sports science would be an impressive achievement in itself. None of that, however, is as exciting as his remarkable journey to this point, an odyssey that will give huge hope to anyone growing up outside the traditional margins of rugby.
It's a small wonder that Kinshasa-born Tshiunza is a rugby player at all, let alone a vital presence in the Exeter team that flew to South Africa on Monday for his 21st birthday. It was a very different life growing up in the Democratic Republic of Congo, until his French-speaking family fled the country's civil war in 2010 and started a new chapter in Cardiff.
Initially, they were housed in a one-room apartment in Splott. Seven-year-old Krist, the youngest of five children, slept on a mattress he shared with two of his four sisters. "We were in and out of municipal buildings and no one could speak English so it was difficult. But then we met a nice Algerian family who spoke English and French and helped us. People realized that life at home is not easy… everyone in Wales was so nice."
Life was a similar challenge when he started school. "You sit in class and have no idea what's going on. You can't really talk and make friends during the game. Thus you will find the only thing that has no tongue. I never had brothers so sports were a way to connect with other people. As soon as I started running, I knew that I would do some kind of sport. I was tall and moved faster than many people. I knew I was different in some way."
Rugby, however, remained largely a foreign concept even when he first attended Whitchurch High School, the alma mater of Gareth Bale, Sam Warburton and Tour de France champion Geraint Thomas. However, at the age of 15, Tshiunza had a significant growth spurt. The school's head of rugby, Steve Williams, encouraged him to try the sport, and the coaches helped him raise enough funds to send him on a school trip to South Africa. Three matches were played, and the nimble Tshiunza was man of the match in two of them. "The doors only started to open after that. You get to a point where you think, 'I've got something here. I could use it or I could be an idiot and not fulfill it.'"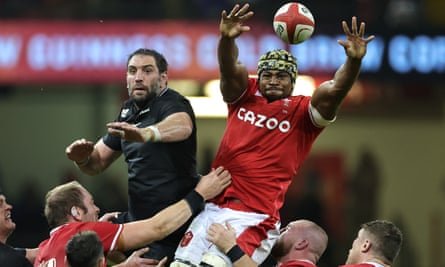 Just four years later, in November 2021, he made his debut for Wales against Fiji at the Principality Stadium. Afterwards, with his new cap still on his head, Tshiunza handed his first Wales shirt to Williams to thank him for his encouragement and leadership. "When rugby started going well, it would have been so easy to say, 'Now I've found my sport' and drop out of school. Guys like Steve Williams really keep you grounded. I am happy that I met him then."
It was to be another formative moment on the 2019 South Africa trip, this time with Wales Under-18s. During a visit to a local settlement, Tshiunza got a glimpse of the world he left behind. "The way they lived and the way they treated us rugby players was a very humbling experience. Being around all those kids… that could realistically have been me. I don't have much, I live a completely different way of life."
Which is why Christ – pronounced "knuckle" – is now so determined to make the most of his God-given talents. "I don't go out much, if at all. The only thing I will really do is go out to eat with my friends occasionally. I literally go home from the club straight to my laptop … you can get lost in the university lifestyle and rugby culture."
His late galloping try to win a thrilling game against Harlequins in September was a striking reward for his commitment. "He's one of those guys who's going to get better and better," says Exeter's director of rugby, Rob Baxter, whose side are in Pretoria to face the Bulls in the Champions Cup. "The good things he does are great, but there's more to it."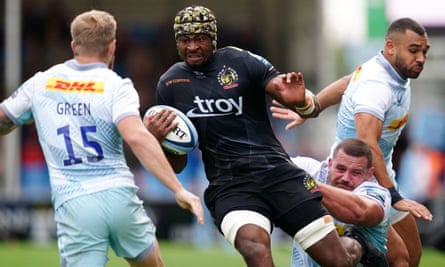 If the versatile 6ft 6in, 114kg forward can force his way into Warren Gatland's Six Nations squad, it will also be partly down to the mental example of former Royal Marines physio Nick Cox, who oversaw his recovery after suffering a badly torn hamstring out for a large part of 2022. "I felt like a different person when I got out of rehab. I used to be a bit of a drifter, but you flip a switch when you spend time with a man like Nick. Even now I'm reaping the benefits of that."
And the year 2023 has long been circled in red. "I set myself the goal of playing in this World Cup in an interview four years ago. There is proof of this on the internet. My parents said: 'God forbid. Really?' But look where we are now. I don't know if it's an inner conviction or God favoring me, but I found that things were always right."
If he ever falters, he has only to think of his parents, Felix and Bernadette, and the alternative path they gave him and his sisters, who now work in healthcare and accounting. "It keeps me calm because I know where I'm coming from. I know the hardships my parents went through because of me. They came here not knowing anyone.
"They sacrificed their jobs, their friends and family in the Congo. Now I work hard with the ultimate goal of one day being able to do the same for my parents. So I can finally relax. I want to be a successful person. That's it. Neither an athlete nor a businessman. I want to be a successful person." The story of Christ is already inspiring and not over yet.