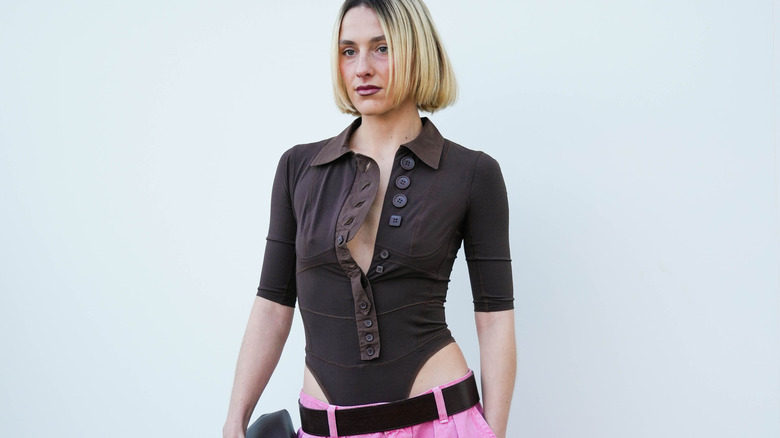 Edward Berthelot/Getty Images
Cargo pants have historically been a diverse trend, but this season they are making a comeback in a new way. According to Olivers, the style dates all the way back to British military uniforms in the 1930s. They were developed to allow soldiers to carry extra ammunition and necessary supplies while on the battlefield, but this military essential, once considered purely utilitarian, has been embraced by fashion pioneers. The pocket-heavy design saw a lot of popularity in the 90s and early 2000s, and has recently seen a surge in popularity with the Y2K fashion comeback.
Today, the cargo pant silhouette is popular with everyone from avid hikers to streetwear influencers. Pockets add a fun, decorative touch to traditional trousers, and a long military history helps bring a masculine touch to even the most feminine of outfits. This season, however, designers are moving away from the messy, stolen-from-the-boys-wardrobe look that dominated the '90s in favor of a more experimental, structured approach.
Structured designs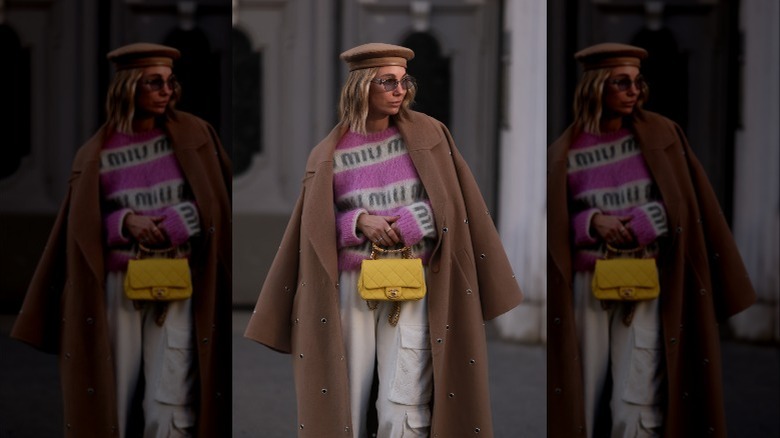 Jeremy Moeller/Getty Images
In the past, the streetwise iteration of cargo pants were often worn loose and low on the hips as a contrast to the more buttoned-up military look they were usually associated with. However, now the uniform atmosphere is back in fashion. After the past few years of sharp dressing and professional and casual looks, it's no surprise – cargo pants are just the next item to get the tailored treatment. The once rebellious skater style might even go so far as to dive into business casual territory, bringing a new twist to the classic workplace-appropriate pant.
Non-traditional fabrics and colors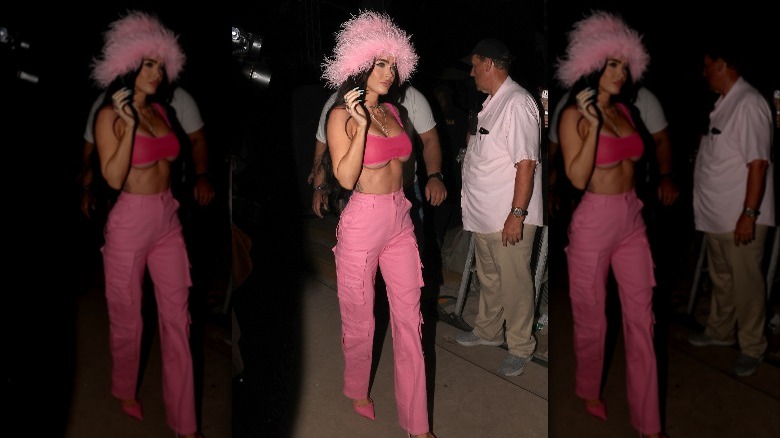 John Parra/Getty Images
Designers may be returning to a more traditional, military-inspired interpretation of cargo pants, but they're still having fun with fabric and color choices. In addition to classic khakis, you can expect bold colors like pink (thanks, Valentino), satin finishes and luxurious organza. The utilitarian glamor look might seem like an oxymoron, but it's making a big splash on the catwalks and is likely to hit the shelves of your favorite stores in the coming months. Try wearing cargo pants on a night out; luxurious fabrics provide a great contrast to their masculine silhouette.
Pockets and zippers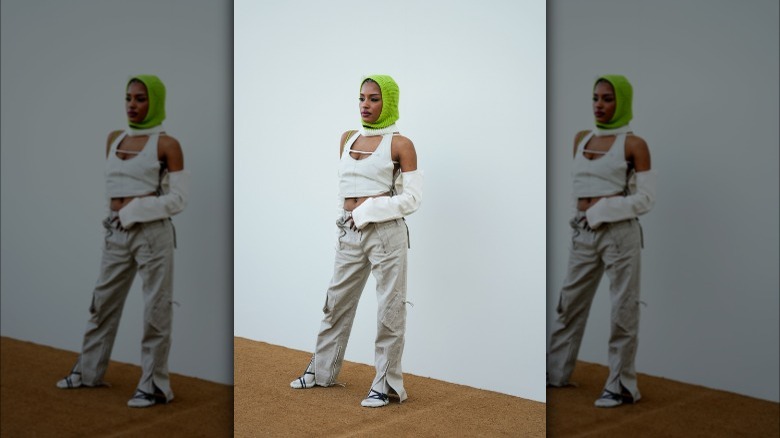 Edward Berthelot/Getty Images
Straps and zippers galore take the stage as utilitarian fashion continues to grow in popularity, and cargo pants are the perfect canvas for designers to play with functional accents. Typical cargo pants have an extra pocket or two along the thigh, but look out for models with zippers to adjust the fit, large pockets lower down the leg, and seams that reinforce weak spots. If you're looking to veer off the hiker look a bit, try pairing it with a top that sounds more club than trail.
Matching sets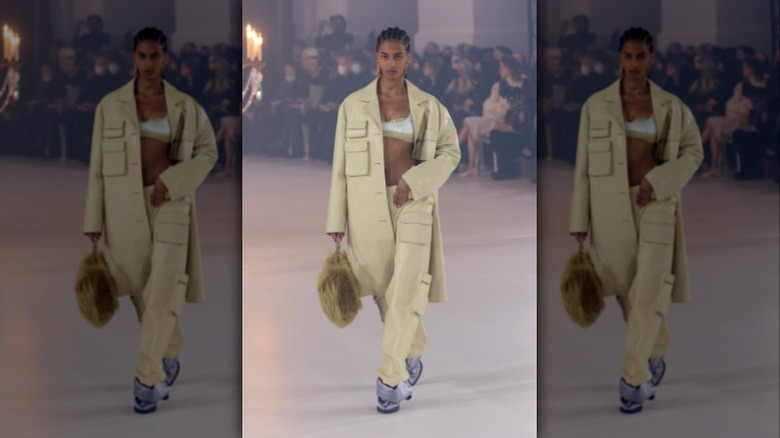 Victor Boyko/Getty Images
Pairing a matching jacket or top with pants is by far the easiest way to create a cohesive outfit, and cargo pants are no exception. Off-White, Valentino and Act Nº1 have all matched their recent runway looks, so if you're planning to follow suit, you'll likely see some pocketed coats and cargo sets hitting the shelves soon. Keep it simple with a basic t-shirt underneath and boots, or amp it up with glamorous details like pointed-toe heels to balance out the utilitarian vibe for a date night.
Silhouettes of runners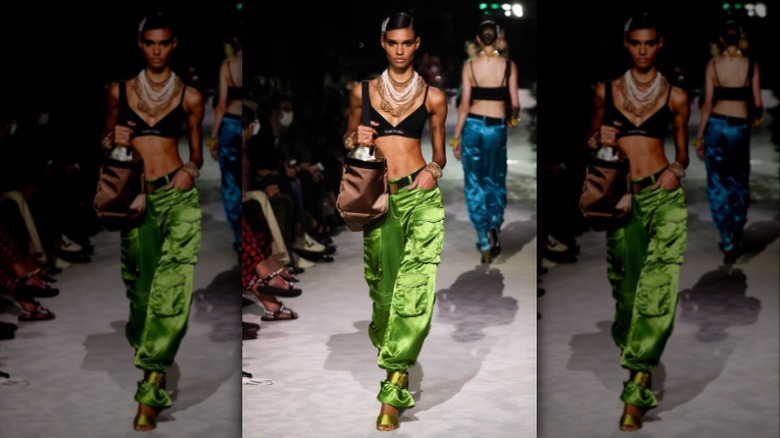 Jp Yim/Getty Images
Cargo pants in a variety of silhouettes appeared on the catwalks this season, but the most unexpected are the modest joggers. This style — relaxed all over the leg, cinched around the ankle — has seen quite the transformation from casual sweatpants to an elevated part of our wardrobe. This design is a little less formal than classic wide legs or tapered trousers, so keep it in your comfort zone for a model airport look or style it for a night out with heels and a structured top to lift it up.
Denim galore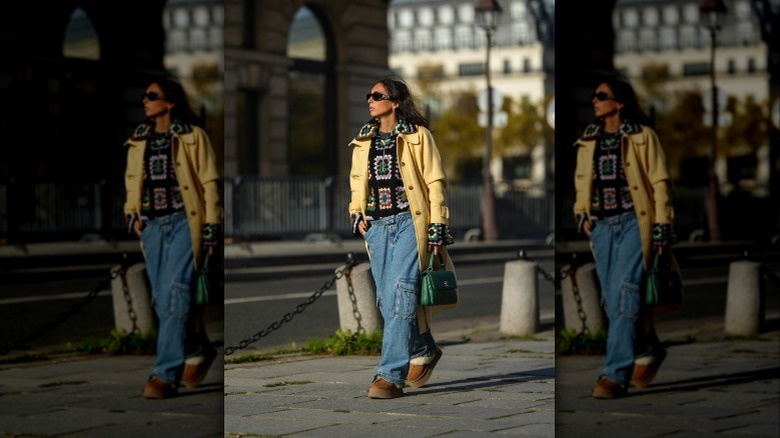 Edward Berthelot/Getty Images
Just when you thought they had run out of new ideas to transform the classic pair of jeans, denim cargo pants enter the scene. However, instead of the comically wide legs and massive pockets of JNCO jeans of yesteryear, consider a more comfortable and vintage-inspired one. Shabby, frayed fabrics, accented by a collection of pockets, offer a casual and approachable take on this trend — the perfect way to elevate your classic white tee and jeans for the upcoming season.