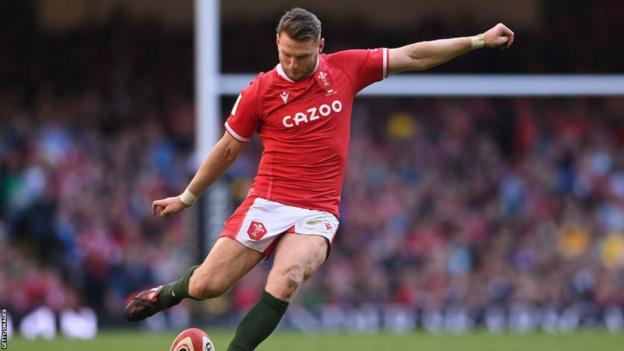 Dan Biggar says he would love to regain the Wales captaincy, but insists he won't sulk if Warren Gatland picks someone else for the role.
The Toulon fly-half led Wales in the 2022 Six Nations and the summer tour of South Africa, but missed the autumn internationals with a knee injury.
Justin Tipuric took over for the November games and Gatland named his Six Nations squad on Tuesday.
"I would like to have that [the captaincy]" said Biggar.
Biggar (33) was handed the leadership role by previous head coach Wayne Pivac, who was replaced in December 2022 by the returning Gatland.
"It's not the end of the line, if it's going to someone else, I'd like to think I'm not the type of personality to sulk in a corner," added Biggar.
"I'll be right behind whoever gets it. I'd love to have it, I've enjoyed doing it over the last year and hopefully I can continue that, but it's Gatsov [Warren Gatland] let's call and we'll continue with what is thrown at us."
Biggar's main focus is a return to the international team after proving his readiness with Toulon last month.
"After missing the fall, even though I was in rehab camp from the outside looking in, it was a big goal for me to get back playing and now I've been able to get some performances going," Biggar added.
Only three wins in 12 games in 2022. Pivac paid with home defeats against Italy and Georgia.
Gatland has already made his mark by replacing Stephen Jones and Gethin Jenkins with Alex King and Mike Forshaw in attack and defense roles.
"From the autumn, above our level, they wanted to make a change and Gats was available, well, probably the choice," added Biggar.
"He knows the lineup and many players well, and he will instill faith.
"I feel whenever someone loses their job, because of Wayne, Steve and Geth and it's never nice, but it's professional sport, and I'm excited to work with the new guys.
"I did some work with Alex King in 2017 and I don't know much about Mike coming up."
Biggar hopes there is a more positive feeling around following Welsh rugby a weekend in which all four regions won the European competition.
This included the Ospreys' victory over French champions Montpellier in a bonus point in the Heineken Champions Cup.
Cardiff and the Scarlets are unbeaten in the Challenge Cup, while the Dragons are a win away from qualifying for the last 16.
"It's shaping up to be a good Six Nations, maybe the negativity of the run-up to Christmas and the few weeks after the autumn internationals is slowly starting to change and we're slowly getting a bit of excitement back," Biggar added.
"With Gats coming back, it will be interesting to see what happens. I'm looking forward to it.
"There has been a lot of doom and gloom surrounding Welsh rugby over the past few months.
"Regionals seem to be playing a little bit better and hopefully some positive weeks will follow."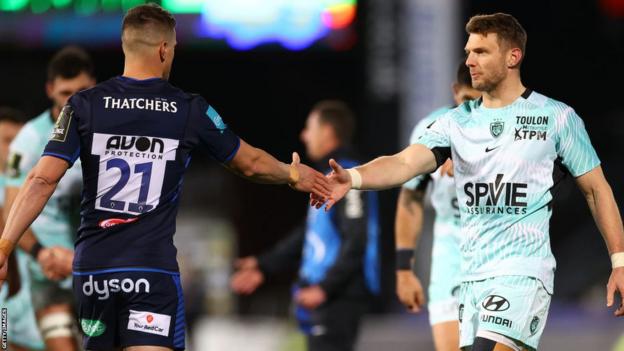 Biggar has settled into life at Toulon after joining the French giants from Northampton in November 2022, linking up with France captain Charles Ollivon, South African winger Cheslin Kolbe and Italian great Sergio Parisse.
"I like it," Biggar added.
"I went back to Wales for a few days over Christmas because the family was staying there, but the lifestyle and the experience and France is something completely new.
"It is difficult, I don't want to say that everything is perfect because you have moments when the language is difficult and you are trying to solve our internet or banking things.
"I'm not saying it's the best thing since sliced ​​bread because there are challenging moments, but overall it's so different and exciting.
"We played Lyon three days before Christmas, and before the game I stopped in Toulon to do some shopping and parked in town, no problem.
"I was just sitting at lunch in a sweater and shorts in the sun, and then I was talking to friends back home who were fighting over a parking space at the local mall while it was raining. That's when I thought I'd made the right decision."
However, the home games in front of the Toulon crowd are the real highlight of the British and Irish Lion.
"Playing at home, the only way I can describe it is going in [to the ground] it's better than the international atmosphere," Biggar added.
"It's absolutely amazing, you're made to feel like a superstar. It's brilliant.
"Rugby is hard, matches are hard, but all in all I enjoyed the beginning.
"After the Six Nations my family will be out, the little ones will start school and the weather will improve."
Biggar's final haul of 13 points helped the French side defeat Bath in the Challenge Cup a match which was postponed for a day and moved to Gloucester due to the weather.
"We just kept going," Biggar said.
"It was far from ideal for both parties, but it would have been an easy excuse for us to blame travel and disruption."
Biggar has French lessons three times a week with the same teacher who coached England World Cup winner Jonny Wilkinson.
He even had the opportunity to conduct an interview in French with Toulon's social media team after the win in Bath, just two months into his new surroundings.
"At the moment it's mostly spoken in sentences in French, instead of really communicating and putting things into perspective," added Biggar.
"I hope that will happen in the weeks and months to come."