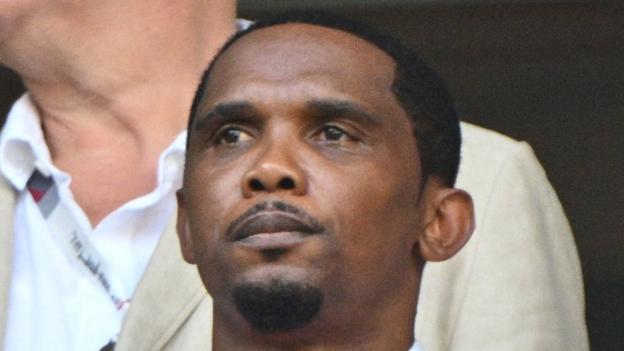 The Democratic Republic of Congo has been forced to withdraw from a regional qualifier for the 2023 Africa Cup of Nations under-17s after 25 of its 40 players failed the mandatory age test.
It is the latest age-cheating scandal to hit the Central African Football Confederation (UNIFFAC) qualifiers after 32 players from host nation Cameroon failed age tests ordered by Samuel Eto'opresident of the country's governing body, Fecafoot.
After a race against time, BBC Sport Africa learns that Cameroon have found 30 replacement players who have all undergone Magnetic Resonance Imaging (MRI) tests in Douala.
But as Indomitable Lions' first match in Limbe was supposed to be against DR Congo, they will now not be able to start the tournament on January 12 as planned.
A press release from the Congolese Football Association (Fecofa) said he was forced to withdraw after "only 15 qualified and 25 failed out of 40 players submitted for MRI testing."
However, of the 15 players who passed the age test, the statement also revealed that "only five were able to complete the necessary administrative formalities" that would have allowed them to travel to Cameroon.
Four countries – Cameroon, Congo-Brazzaville, Chad and the Central African Republic – will now take part in the qualifying competition, with UNIFFAC scheduling the matches between 12 and 24 January.
The two teams will advance to the April finals of the Under-17 Nations Cup in Algeria.
"It's an organizational nightmare because we have to quickly come up with a new format that will involve four nations instead of the original five," a UNIFFAC official told BBC Sport Africa.
"We are delighted that after the MRI scan all four nations now have a team."
The Confederation of African Football (Caf), which conducts the MRI age scan, has been contacted for comment.
The fight against age fraud
Many of Africa's international successes at junior tournaments have been clouded by accusations of using overage players.
Fifa has banned Nigeria from all international matches for two years after it discovered that the dates of birth of three of their players at the 1988 Olympics were different from those used by the same players at previous tournaments.
In 2003, the Kenyan under-17 team was disbanded by the government after some players admitted to age fraud.
Seven months ago, Ghana were banned in the next two editions qualification for the U-17 Women's World Cup and fined $100,000 after being found guilty.
Djibouti, Sudan, Somalia and Congo-Brazzaville also suffered disqualifications from major tournaments, while Cote d'Ivoire, Liberia, Guinea, Benin, Sierra Leone and Uganda were all notable offenders.
Cameroonian legend Eto'o has promised to take steps to combat the long-standing problem when he was elected president of Fecafoot in December 2021.