Eileen Gu is busier than most people her age. After all, the 19-year-old professional skier is not only a two-time Olympic gold medalist, but also a highly sought-after model. On top of that, she's a full-time student at Stanford, living the good old college life of attending classes and hanging out with friends—that is, when she's not traveling the world for sports competitions or fashion shoots. Basically, everything happens to her.
So naturally, when I got the chance to chat with the freestyle skiing star — who partnered with IWC Schaffhausen to organize a day of training for kids ahead of the X Games in Aspen, Colorado — via Zoom, I said yes. (I mean, you're curious about how she does it, too, right?) Together, we talked about her experiences as an Olympian, her goal to inspire the next generation of skiers, and managing her workload as a teenager.
---
You made the controversial decision to represent China at the Beijing Olympics. What was that experience like for you?
I was really happy to compete in China at the Olympics, and then to see the impact that the Games (and hopefully my performance) had on sports culture in China and around the world—especially in terms of action sports and young girls. Going into the Olympics, I always said that my goal was to inspire young girls to take up skiing and use it to push their limits or inspire them in any aspect of their lives. [I want to encourage them] trying something new for yourself, not being afraid to push yourself to your limits and see how big and powerful you can be. When I look back at the Olympics, I absolutely hit that mark. Hundreds of millions of people on the snow in China and around the world are now enjoying the sport I love so much. I can say with 100% certainty that I did what I was supposed to do. There is nothing that anyone can say that can take that away from me, because there has been an enormously positive impact after the games; that was very important to me.
As a young professional skier, what is the biggest lesson you've learned in your career so far?
I think the hardest part of skiing is really understanding yourself. Pressure makes whatever is already in your head worse. If you go into a competition thinking, "I can't do it, I'm so scared I'm going to lose," the more pressure you have, the more real those thoughts will become. The opposite is also true. If you go in feeling confident in your abilities and have done the necessary training, it will show for you. Being able to control what you're thinking, separate those negative thoughts and train effectively—that's a big thing for me right now. I have three events, and I'm the only person competing in all three, as an added challenge. Plus, [I'm] the only full-time student, therefore [that's] double the challenge. Among all these external factors, it's just about how strong your sense of self is, how confident you are in your mental game and how you can carry out the day.
With that in mind, is there any advice you'd like to share with young women (and men) who want to follow in your footsteps?
The biggest thing is not to be afraid to try. Many people, myself included, have had many experiences where we felt judged; we are afraid to fall because we think it will be awkward or unwelcome. Or, that people who look like us or come from backgrounds like us are not reflected in our industries. All of this is incredibly isolating and can be devastating to one's confidence if they are young – even if they are old! The most important lesson is to not be afraid to try, to find supportive people and to surround yourself with positivity. On top of that, find your passion and believe in yourself more than those who judge you from the outside. If you love something and really want to do it, the only voice that matters is yours. Just remember that and stay true to yourself, as cliche as it sounds.
Let's move on to fashion. How do you transfer your sense of style to the ski slopes?
I think that skiing and fashion definitely play together in my life. Specifically in skiing, I help design what's on my skis; I have my signature on it and other elements that I post. Last year it was the Chinese proverb "Dragon among men", in the form of a dragon. This year I have a phoenix with "Eternal Flame" engraved on the edge of the sidewall. It's a game with the Olympic flame. There are many elements of personal style that I put into my gear that mean a lot to me. I think that skiing and fashion build on each other because they are both so personal and expressive, so playing both is so much fun for me.
As someone who spends so much time in the cold weather, what are your top winter skincare tips?
Wear sunscreen! That's the biggest thing. I apply sunscreen twice a day unless I'm really focused on training; you can tell I've had a good week because you can see the slightly dark glasses. On top of that, always have your own moisturizer. I have a very simple skincare routine; I only apply moisturizer and serum and that's it, but everyone has to play to their strengths and know what their skin needs. Also, eat your fruits and vegetables and drink water, because it makes a big difference.
No doubt you have very busy schedule. How do you manage to maintain a healthy balance and way of thinking through it all?
It's a whirlwind, but in the best possible way. The fact that I do so many different things is what makes it interesting. If I spent all the time I spend doing things in one aspect of my life, I'd already burn out. What keeps me from getting bored is confronting these different aspects of my life at the same time. It's hard to get tired of one thing when you've only been doing it for an hour, so when I'm at school I'm excited to be there; I am physically present in the classrooms with my friends. When I'm not there, I don't think about school, because suddenly I'm upside down and I don't have to study physics from a textbook; I live it in real life. Fashion is expressive, fun and creative. I get to meet all these amazing people and have the opportunity to express myself and my values ​​in a way that is not available to me in other aspects of my life. All these fantastic elements in my life fit together into this unique puzzle, and that's what makes things interesting, not in spite of each other, but because of it.
What are you currently studying at school?
I haven't declared my major yet—you don't have to declare your major until the end of your sophomore year, and I'm now in a quarter and a half. But last quarter I took a quantum physics class, a poli-sci course, and some core requirements. I had 17 units last quarter and 20 was the max. This quarter I am taking 18 units with some philosophy classes, a writing intensive, and a traditional Chinese medicine course; we'll see if that was a smart idea…I a.m they also compete in a bunch of different competitions.
What's next for you?
I just came off the back of two World Cup wins, so that was really big for me. It was my first competition since the Olympics and I had been out of the competitive scene for over 11 months, so coming back definitely boosted my confidence and reminded me how much I love to compete. I [just had] X Games, and I'm thinking about the World Championships and World Cups down the road. At the end of the day, it's just me against myself. I try to do my best on the day; that's all i can ask.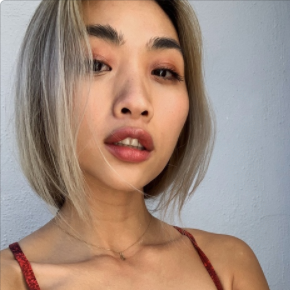 Dale Arden Chong is ELLE.com's senior fashion editor. She was previously an editor at MensHealth.com and has written for Who What Wear, GLAMOUR, The Coveteur and more. She loves fashion, food and art, among other things, but her greatest love is K-pop idol V from BTS.