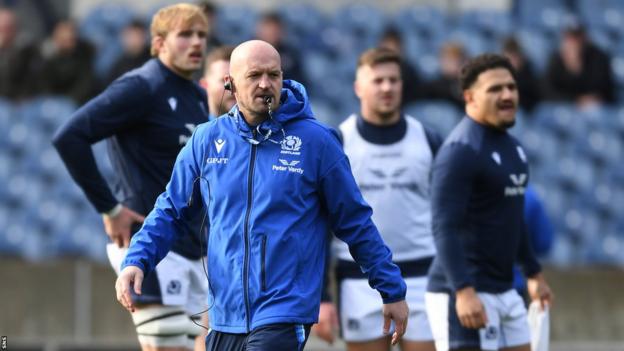 Dates:
February 4-18 March
Coverage:
Selected matches on BBC TV and BBC iPlayer with live text commentary and BBC Radio Scotland commentary for each match.
Gregor Townsend will name his Six Nations squad for the sixth and probably last time on Tuesday afternoon. We say final (potentially) because of all the speculation linking the Scotland coach with a move to another post once his contract expires after the World Cup in the autumn.
Hardly a day goes by without a Townsend story appearing in the rugby pages. France is interviewing him for the role of attack coach. No, he's first in line for the Leicester job. Wait, a guy who looked like Townsend was spotted in a restaurant in Bristol. Calm down, wasn't that Townsend in a boulangerie in Bordeaux, a pastry shop in Paris?
The chat is feverish (the Leicester link is constantly growing) and on Tuesday he will be asked about everything. Don't expect many answers. Does he want to stay? Does SRU want to stay? Are they talking to each other or just preparing for the afterlife?
Townsend will be on the grill, but the chances of him giving something away on this matter are minimal. You won't be surprised to hear that it is focused on the Six Nations and the Six Nations only. His future is not important. The team is everything. That deadbeat you might hear emanating from Murrayfield in the early afternoon will be the sound of Townsend striking his bat sharply at any questions about him staying or going.
These are crazy times in the world of international rugby. Warren Gatland replaced Wayne Pivac in Wales, Steve Borthwick replaced Eddie Jones in England who replaced Dave Rennie in Australia who is being talked about as a replacement for Townsend if he leaves later in the year.
In all places there is blissful peace, France, the rugby nation that has elevated the chaos behind the scenes to an art form.
It tells you everything you need to know about how upside down the world of rugby is right now. When the French seem stable and some others are in transition, then something very strange happens.
Townsend's time as Six Nations coach is a case of what could have been playing on a loop. They have won 12 out of 25 caps, just one less than England in the same five-season period (but England have the league title), and just two less than Wales (who have a Grand Slam and a championship in the same period). Time scale.)
He was never able to lead his team to a turnaround last weekend, and their chances were repeatedly ruined by massive underperformance or maddening moments in otherwise tight games. In Townsend's time, Scotland have lost six Championship games by seven points or less and drew their seventh when leading until the 83rd minute.
It's only when you look back that you realize how groundbreaking some of them were. A terrible decision made under pressure, a couple of ridiculous penalties awarded at the wrong time, a missed goal-scoring opportunity, a sudden onset of soft mentality syndrome.
The principle of "narrow margins" in elite sport is a cliché, but that doesn't mean it isn't true. It is. Scotland is the living embodiment of that. You half expect the ghost of Jim Bowen to pop out of the cupboard in the Scotland team room and tell the players "here's what you could have won if your penalty count hadn't gone into space when the heat came on".
So, a last chance (perhaps) for Townsend to do what no Scotland manager has managed in the history of the Six Nations, which is put them in the hunt for the title on the final weekend.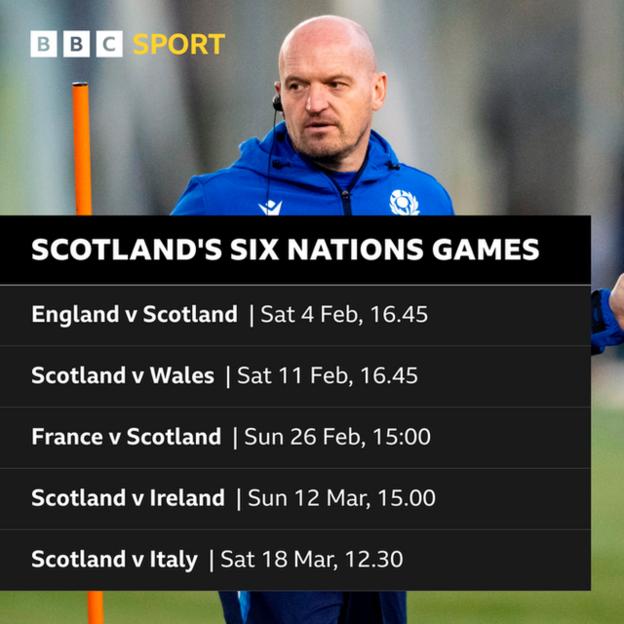 Scotland's injury problems
But it wouldn't be the Six Nations if it weren't for the injury woes. And does Townsend have them. Only Adam Hastings has been ruled out of the entire tournament, but there are a host of star operators likely to miss the opening games: Darcy Graham, Hamish Watson, Rory Darge and, above all, Zander Fagerson.
Townsend will feel the loss of all those guys, but Fagerson's absence (however many game weeks it lasts) is the most costly. By the time he returns and the intensity of the Six Nations hits, Scotland's race may have already been run.
In a tight head, Townsend has no one even remotely in the same category as Fagerson in terms of carrying capacity. Murphy Walker also carries a punch but has not been tested on Six Nations rugby's most unforgiving pitch. In addition, there are WP Nel, Simon Berghan and Javian Sebastian. Somehow, the cavalry must hold the fort until the big man returns. England first and Wales second, both with new coaches on a rebuilding mission. It's a rough start.
This is the greatness of the Six Nations; the picture changes every year and a completely new vista appears. Will Sean Maitland, who is on form for Saracens, be brought back into the order now that Graham is out? How many of the countless Scottish centers will succeed? Most, if not all, fly.
Please pray that there is no late eruption in the Townsend-Finn Russell relationship. If Russell is the first choice at 10 and Blair Kinghorn is the second, then who is the third? The Fin Smith ship has sailed, so is it Tom Jordan who is making rapid progress with Glasgow or Ben Healy, soon to move from Munster to Edinburgh? Jordan has put in excellent performances and deserves recognition.
Townsend could spring a surprise on Tuesday. It almost wouldn't be a Townsend announcement without a bolt from the blue. Whether or not this is the last time he does this will be a strong element of his press conference.
In the immediate future, though, the biggest issue isn't where Townsend is going or not going, but where his team is going. North or south from last year? To hope or not to go to the World Cup? The story begins on Tuesday.
Scotland Six Nations 2022 results
February 5, Scotland 20-17 England
February 12, Wales 20-17 Scotland
February 26, Scotland 17-36 France
March 12, Italy 22-33 Scotland
March 19, Ireland 26-5 Scotland