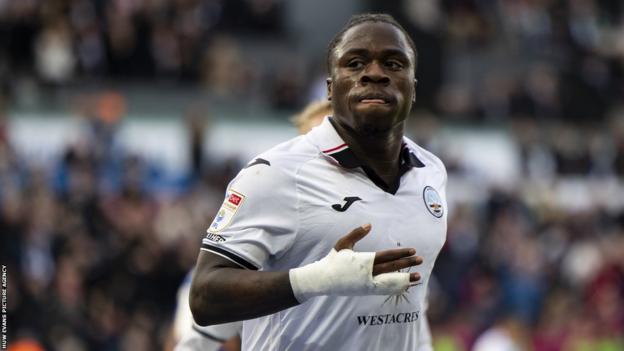 Swansea City have had two bids rejected for Michael Obafemi, but head coach Russell Martin says the forward's future at the club remains uncertain.
Swansea also rejected a bid for Morgan Whittaker after he was recalled from his loan spell at Plymouth.
Martin, who is delighted with Rotherham's Chiedozie Ogbene, says Swansea have made two bids for the player.
Obafemi, 22, has been linked with Championship leaders Burnley, who tried to sign him last summer.
Republic of Ireland international Obafemi has recently fallen out of favor with Martin, who previously said he felt that way "wasn't good enough" this season.
But speaking ahead of their trip to Sunderland, Martin said there was "no break in relationship" with the striker.
"I'm not unhappy with him as a person. We have a great relationship," Martin said.
"We had a great chat on Tuesday, we were honest with each other. He sees an opportunity to get to the Premier League very quickly, so I understand that.
"It was there for him over the summer and it didn't quite go away. He couldn't quite shrug it off. Some people can handle disappointment very well and some people can't.
"He didn't play as many games as he would have liked, he didn't have the impact we both would have liked, but there is no break in our relationship.
"I absolutely love the kid. It's just sometimes difficult because of the situation. If we don't get an offer that's satisfactory, we'll have to reevaluate. He's going to continue to stay fit and work hard.
"I'm pretty sure a club that's interested in him can pay more money than us."
Whittaker, who has been linked with Ipswich Town, was the subject of a failed bid from another unnamed club.
The 22-year-old was recalled from a season-long loan at Plymouth – who wanted to sign him permanently – earlier this month after scoring nine times for the Pilgrims in the first half of the season.
"I think (the offer) is pretty short at the moment. With that in mind, Morgan probably won't be involved at the weekend [against Sunderland]said Martin.
"With that looming over his head, we have to see where it goes. We don't want this to drag on and cost him another chance to play.
"If he plays one minute for us, then he can't go. It's disappointing for us and for Morgan. I've been really happy with him since he's been back. I hope it gets resolved very quickly."
Martin says "nothing is imminent" in terms of new players, but says Swansea are working to address it.
The Welsh club also have an interest in Malcolm Ebiowei from Crystal Palace, and have also been linked with a loan move for Leeds striker Joe Gelhardt.
"We made two offers for a player who is not quite there. Since then things have stalled a bit," he said.
"We made an offer for a player we were interested in before those offers arrived [for Obafemi and Whittaker].
"There are players who will want to move on, but it has to be good for the club. We are not forced to sell anyone cheap."