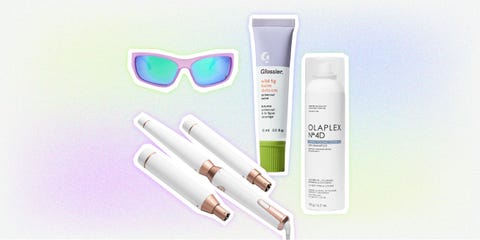 Design by Yoor Kim
Ahhh, February. Love is in the air (it smells a lot like Cherry Fun Dip packets and chocolate covered strawberries) and it's putting us all in the best mood ever.
Whether you're booed and have romantic plans for 2/14 or planning to celebrate with your Galentines, the month of February brings all kinds of fun and flirty goodness. If all that V-Day spirit gets you in the shopping mood, we're here to help guide you through the news with a roundup of all the prettiest, best-selling fashion and beauty news you need to know this February. Last month, we highlighted Fenty Beauty's Super Bowl Collection, JanSport's Adaptive Collection, Converse x Rick Owens, and Prince Harry's comprehensive memoir. This month, get ready for a brand new Olaplex drop, new Yitty 'fits from Lizzo herself, a very exciting announcement from Glossier (hint: one of their best sellers is now vegan!), and so on many more.
Have we piqued your curiosity yet? Show yourself some LOVE this February by shopping the latest preview of fashion collaboration news and amazing beauty launches, below. ❤️🔥
Advertisement – Continue reading below
1
Glossier's Balm Dotcom is going vegan
BUY NOW
Release date: Available now
Prices: 14 dollars
Your favorite lip balm finally comes with an applicator tip (no more smearing with your finger!) *and* it's new vegan. The beloved Glossier product now uses synthetic beeswax as well as vegetable-based castor jelly to replace the petrolatum found in previous formulations. Plus, Glossier will throw in a free Pink Market Net Bag with any Balm Dotcom purchase through 2/9.
2
Hillhouse Home spring drop
TRADE 2/7
Release date: February 27
Nap dress fans: just wait until you meet the Nap skirt and Nap shorts. Hillhouse Home's latest collection is full of colorful plaids, bursts of sweet florals and upbeat knits – spring can't come soon enough.
3
Szade's recycled collection of rave-inspired basslines
BUY NOW
Release date: February 27
Prices: $69.95 – $94.95
Want to ~jazz up~ your sunnies collection for when it gets warm outside? Szade's latest album contains four frames inspired by jazz, deep house, techno/alt pop and punk music genres. Oh, and the sunglasses are made from recycled plastic eyeglass frames to reduce waste. Win-win.
4
Cocokind launches a new cream
BUY NOW
Release date: Available now
Prices: $26.99
The cult-favorite brand that brought you chlorophyll masks and rosewater sprays has just launched a super-moisturizer that will save your skin from the harsh indoor heat and chilly winds this season. The velvety feel of their Resurrection Polypeptide Cream makes it an ideal nighttime moisturizer.
5
Olaplex is launching a new product
BUY NOW
Release date: Available now
Prices: 30 dollars
Olaplex is known (and loved) for its rebonding treatments and leave-in products, but did you know they extend the hair goodness to dry shampoo?! The benzene-free formula doesn't leave a white cast and won't clog the pores on your scalp.
6
Pattern Beauty releases new brushes
BUY NOW
Release date: Available now
Prices: 20 dollars
Girls with curly, frizzy and textured hair rejoice! Pattern Beauty has just released two new beauty tools to elevate your hair care routine — a blow-dry brush and a double-sided brush for slicked-back styles.
7
The Body Shop offers inclusive hair care
BUY NOW
Release date: Available now
Prices: 19 – 25 dollars
The Body Shop's latest line of Jamaican Black Castor Oil products is specially designed for 3A to 4C hair. From cleansing conditioners and hair masks to leave-in conditioners and curl activators, this selection has your hair covered every step of the way.
Advertisement – Continue reading below