The Dakar Rally is a powerful advertisement of the FIA's policy of equality, diversity and inclusion
One of the FIA's ongoing goals is to expand its horizons and open up the world of motorsport through equality, diversity and inclusion. FIA President Ben Sulayem and his team are working hard to ensure opportunities within the sport are not limited by origin, gender, religion and finances, with one of the key goals being to increase regional competitiveness and double participation in motorsport by 2025.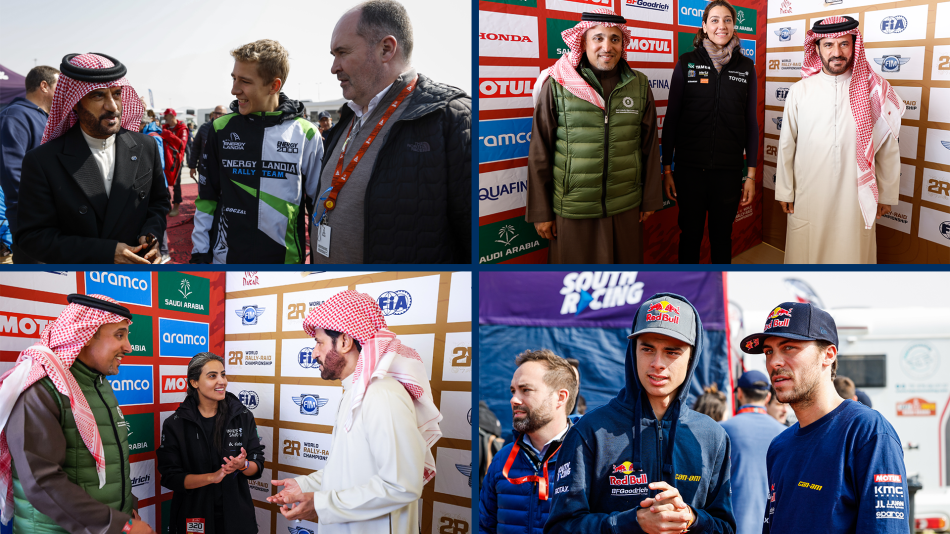 Now considered one of the most popular motorsport events in the world, this year's Dakar Rally is the perfect advertisement for achieving that goal. The event attracted a record 603 competitors, including 73 T1 crews, two T2 crews, 47 T3 light prototypes, 46 T4 SSVs, 56 trucks and an additional 76 Dakar Classic cars and 13 Dakar Classic trucks.
Including entries in the motorcycle class, there were competitors from 68 countries. France was the most dominant on the entry list with 143 representatives, followed by 83 from Spain and 75 from the Netherlands. However, there are participants from several countries in South America, Africa, Australia, North America, Europe, the Middle East and other Asian countries, including China, India, Japan and Kyrgyzstan.
Breaking down that diverse list further, there were 150 rookies entering the grueling opening round of the FIA ​​World Rally-Raid Championship (W2RC) and 54 women taking part, including 20 in the Dakar Classic and five women-only competitive crews.
FIA President Mohammed bin Sulayem and Robert Reid, FIA Deputy President for Sport, were welcomed by His Royal Highness Prince Khalid bin Sultan Al-Abdullah Al-Faisal, President of the Saudi Automobile and Motorcycle Federation (SAMF), as they arrived on vacation, daily visit to Riyadh. The duo toured the bivouac and met many of the leading crews, some of the younger competitors.
"Everywhere you look in a bivouac in Riyadh, you see diversity in terms of technology and sustainability, but more importantly, diversity in culture, age and gender," He said FIA President Mohammed Ben Sulayem. "It's really a pleasure to see the opportunity for young drivers. It is also encouraging to see the number of female Saudi nationals, especially young women, playing key roles in the organization of the Dakar Rally and other motorsport disciplines, not only as drivers and co-drivers, but also as project managers and engineers and many other roles. Motorsport has given them an opportunity and is an accurate reflection of the positive change taking place in the Kingdom and is very much in line with the FIA's policy on equality, diversity and inclusion."
Reid added: "We walked around the bivouac, met some of the competitors, saw two Saudi women competing alongside many other women, some very young competitors. There are teams like South Racing that are introducing academy programs to bring in racers – but not just racers: engineers, mechanics too – from different parts of the world, from different backgrounds. And that's really what we need to see if we're going to meet our goal of doubling motorsport participation."
The diverse nature of the Dakar has been spectacularly successful in recent years and 2023 is no exception.
For example, 18-year-old Eryk Goczal is participating in the Dakar for the first time as a member of the Cobant-Energylandia Rally Team, together with his father Marek and uncle Michal in a three-car team. The rookie made history during the first week when he became the youngest ever Dakar stage winner. The Pole currently holds third place in the T4 category, has won two stages and is in a good position to fight for overall honors this week.
Likewise, talented young American Seth Quintero competes in the T3 category, driving a Can-Am Maverick X3 as part of the Red Bull Off-Road Junior Team USA represented by BF Goodrich. He made history last year by winning a record 11 stages at the Dakar and is currently third in his class, around an hour behind the leader with six stages to go. He already has one stage victory behind him this time.
Female drivers have an impressive record at the Dakar and a long history of success. Germany's Jutta Kleinschmidt rewrote the history books back in 2001 when she became the first woman to win the competition outright in a Mitsubishi Pajero, and women now compete in all classes.
This year, reigning Extreme E champion Cristinia Gutierrez is participating as a member of the Red Bull Can-Am Factory Team and is fourth in T3 on the rest day. She is also the best placed of all female drivers in the general classification.
Germany's Annett Fischer and Swedish co-rider Annie Seel are a good fifth of the W2RC entrants in the same class on their X-raid Yamaha, while former FIA Bajas T3 World Champion Dania Akeel is ninth after battling a crash last week. The all-rounder from the United Arab Emirates Aliyyah Koloc is three places further back in her Buggyra Racing entry.
Mashael Al-Obaidan was the first Saudi woman to be issued a competition license and also competes in the T3 category, where she is currently the fifth classified woman behind Gutierréz, Van Loon, Fischer and Camelia Liparoti. The Can-Am driver has been a regular on the FIA ​​World and Middle East Baja Cup scene and is targeting a top 20 finish in her class.
Meanwhile, in the T4 category, WRC star and Extreme E rider Molly Taylor is also making waves in the cross-country rally. The Aussie also overcame a crash in the first week to maintain seventh of the W2RC competitors in her class. Dutch Anya van Loon followed her husband Erik into the sport and is doing well in the T3 category going into week two.