The world's biggest luxury brand has announced a shake-up of its two major fashion labels, a move that puts the daughter of the world's richest man at the helm of one of them.
LVMH Moët Hennessy Louis Vuitton LVMH,
+1.61%
said on Wednesday that Pietro Beccari, the former head of Christian Dior Couture, will take over the roles of CEO and chairman of Louis Vuitton. He will be replaced at Dior by Delphine Arnault, daughter of the group's CEO and controlling shareholder Bernard Arnault. The eldest of Arnault's five children, she was previously director and executive vice president of Louis Vuitton.
LVMH shares rose 1.7% to 769.10 euros in early European trading.
"Succession planning in strategic roles has been critical to the success of LVMH's core brands over the past 20 years, so we think today's management changes are significant," Citi analysts Thomas Chauvet and Lorenzo Bracco said in a note to clients.
They have seen the elder Arnault increase the family's influence at LVMH – as he transformed the family's holding group Financiere Agache into a limited partnership last year.
"This company structure is not widely used in France except at Hermès and Michelin, with one aspect of tighter control over the company. "Recently, Antoine Arnault (45), Arnault's second child and currently CEO of Berluti and chairman of Loro Piana, also became CEO of Dior SE, the holding company that controls LVMH (which itself is controlled by Financiere Agache)," said Citi analysts, who rated LVMH as a buy with a price target of 780.
Beccari's predecessor, Michael Burke, will assume new duties and report directly to the elder Arnault. Citi analysts said the Dior brand had been "re-invigorated" under Burke since 2018, with sales increasing threefold to €6.6 billion. Another change announced was that US jeweler Tiffany will now be part of the watches and jewelery group.
The luxury sector is one that investors should perhaps not ignore, analysts at Baader Europe said in a note to clients published on Tuesday.
"It is hard to believe that a sector worth 730 billion euros could gain 11.5% in the first 6 trading days of the year. That would be a luxury with LVMH weighing 384 billion euros, but as agile as a startup," the analysts said. "We are clearly at a loss when it comes to explaining where the future excess growth could come from that would fuel such a jump in value for the sector."
They noted that Asia opened its doors a long time ago, that China's wealthy are now likely to choose travel over goods and "American households are clearly spending a little longer, but they are clearly extending a little more. One can dream of India as the next frontier of European luxury, but that may not be enough if Chinese ladies change their approach," they said.
However, the luxury sector may "also deserve a premium because it is one of the few sectors that can afford to raise prices without calling it a deal because prices are an essential part of the dream component. Also, luxury is not burdened with a bunch of regulations as is the case with most large sectors," said Baader analysts.
The elder Arnault himself ranks as the world's richest billionaire, with a net worth of $178 billion, according to the Bloomberg Billionaires Index. And his wealth is advancing day and night compared to the former billionaire number 1, Tesla TSLA,
-0.77%
CEO Elon Musk, who became famous for being the first person to wipe $200 billion from his own fortune.
Some blamed Musk and Tesla's slumping fortunes on a CEO bogged down by last year's takeover of social media group Twitter, while the company also missed fourth-quarter delivery expectations.
As the chart below shows, Arnault's and Musk's fortunes have been moving in opposite directions since late last year. LVMH shares are up 12% so far in 2023, though they've lost 6% overall in 2022, the weakest performance since 2011. But Tesla shares are down 65% in 2022, the worst year ever for the automaker electric vehicles.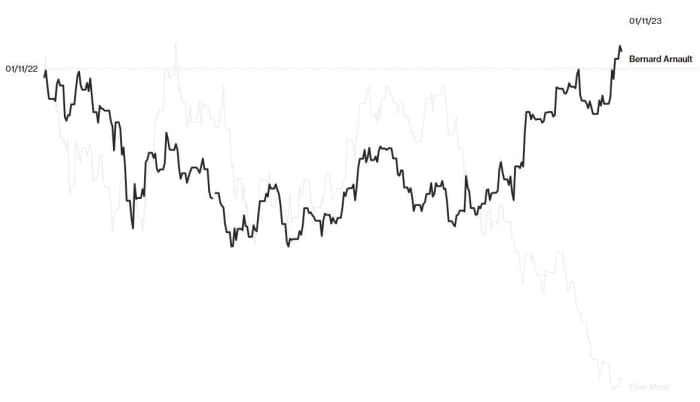 Opinion: 'He broke the stock': Why a prominent Tesla investor wants Elon Musk to put him on the board