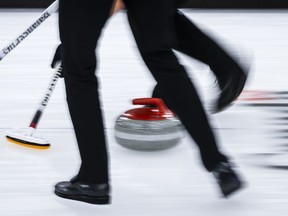 Content of the article
OTTAWA – When Melvin Lee stepped onto the ice of a curling rink for the first time, he says he felt joy – not only because he had found a sport he would love, but because he was greeted by peers who shared some of that lived experience.
Content of the article
That first invitation to curl with a diverse team of law students came more than two decades ago.
Content of the article
Now, the avid curler has a wealth of experience behind him. And he tries to give a similar welcome to others who are underrepresented in sports.
"Many members of my community will not decide to join a curling club on their own," said Lee, who is of Korean descent and works as a health care professional in Ottawa.
"Because everything is white and they just feel like they don't belong."
Last May, Lee, who later became a consultant for South Korea's national curling teams, attended a Curling Canada symposium that focused on diversity, equity and inclusion.
There he heard about local initiatives that welcomed more people of different colors and groups into sports.
Content of the article
He was inspired to follow their lead and accepted the position of Director of Diversity, Equity and Inclusion at the Ottawa Valley Curling Association. But he left not long after, saying he felt unheard in the organization, even though he maintained a relationship with some of its members. The association did not respond to a request for comment.
Instead, Lee is working with organizations like UnitedWeCurl and the Black Rock Initiative to see how he can bring some of the same strategies to Ottawa.
One of the first steps he's taking locally is to organize "learn to curl sessions" – two- to three-hour lessons for beginners who don't have equipment but are interested in getting a feel for the sport. The goal is to introduce them to the curling club once they have developed their curling skills and confidence.
Content of the article
Andrew Paris, who founded the Black Rock Initiative in Nova Scotia in 2021, said his goal is to introduce youth of color and diverse groups to the sport by giving them a chance to learn before they head to a curling club — a strategy he said is " 100 percent" resulted in increased interest among these groups.
"It's not enough just to have that open door in your facility. You have to be vulnerable and reach out to those communities where they live," he said.
When Lee asked Paris for advice, Paris said he told him that building relationships was an important step toward greater inclusivity. And curling clubs must also accept this idea.
Lee said he is working with the youth program director at the Ottawa Valley Curling Association to encourage more diversity.
Content of the article
"There are (many) possible ways to recruit new members, and I think there are a lot of clubs in the Ottawa area that would be willing to do that," Lee said.
Curling Canada CEO Katherine Henderson said the topic of diversity is "incredibly important" to the sports organization.
She acknowledged that as Canada welcomes newcomers, the organization must work in line with that growth.
But the big organizations are only doing an "OK" job, said the president of UnitedWeCurl, an organization that works with curling clubs to help them become more inclusive spaces.
Sabena Islam said such organizations must go beyond creating written tools and instead implement programs designed to bring about lasting change on the ice.
Content of the article
"Diversity, equality and inclusion is not just a slogan or a poster you put on your wall. It has to be built into everything you do," she said.
While Lee works to find a way to do that in Ottawa, he continues to work as a consultant for the Korean national teams.
It all started with a chance meeting in 2003, when Lee was living in Winnipeg for his education.
On a whim, Lee decided to gather a group of young Koreans to cheer on his national team at the World Men's Curling Championship in Winnipeg. The team's coach approached Lee after the game, thanked him for bringing other fans and invited him to dinner. Later, Lee connected the coach with a local curling club that wanted to help the Koreans build a new rink.
They lost touch until the Korean women's national team was looking for a new coach following allegations of abuse against their former coach and two other curling officials.
Content of the article
Lee said the team approached him and asked for his help in reconnecting them with previous coach Peter Gallant, a fixture on the Canadian curling scene. He acted as a liaison and stayed in touch.
Last week, Lee skated with the Korean women's team in Pyeongchang on the same ice where they won the silver medal at the 2018 Winter Olympics.
"It's one of those things where when you do something that's at the top of your bucket list, you've done it, but you can't believe it," he said.
"You think it's a dream."
This report by The Canadian Press was first published on January 8, 2023.
——
This story was produced with financial support from Meta and the Canadian Press News Fellowship.