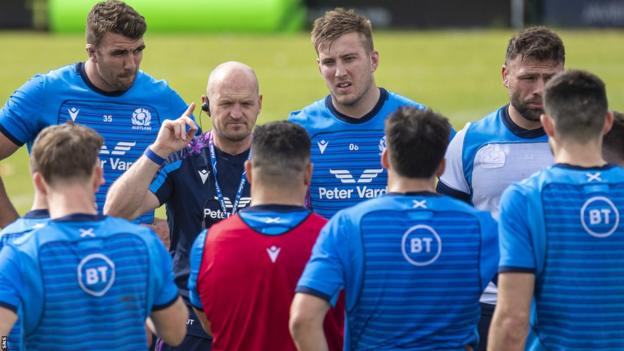 Dates:
February 4-18. March
Coverage:
Selected matches on BBC TV and BBC iPlayer with live text commentary and BBC Radio Scotland commentary for each match.
Gregor Townsend is unclear whether he will stay on as Scotland head coach after this year's World Cup, with no contract offer on the table from Scottish Rugby.
His contract expires after the tournament in the autumn and he has been linked with several jobs, including the French national team and Leicester.
The former Glasgow coach says the decision on whether to stay in charge of Scotland is not in his hands.
"I don't know, that's for others to decide," Townsend said.
"There haven't been any discussions before the Six Nations so I would imagine it will happen after the Six Nations. My focus is on next week, how busy I will be and how we can do well in the Six Nations and I'll see what happens after that."
Speaking with BBC Scottish Rugby PodcastTownsend has confirmed he has received an approach about potentially joining France's coaching staff after the World Cup, but says, despite reports to the contrary, "there has been no contact" with English Premiership side Leicester.
"Before Christmas, someone from France called me to find out if I would be available and interested," he said.
"I said I could be available because my contract expires at the end of the year, but I certainly don't want to talk about anything beyond that because: a) we play France in the Six Nations, and b) I don't know what will happen, whether be signed with Scottish Rugby or is that something I want to pursue.
"So that was the end of that discussion."
Now in his sixth year as national head coach, Townsend says his passion for the job is as strong as ever, but says it will not be the deciding factor in whether he stays in the job after France 2023.
"It's irrelevant if there are no further contract talks or an offer. Let's wait and see.
"I love this job in so many ways. Being here a week or two before the Six Nations just reminds me how lucky I am to be in this position. It would be a real loss if it wasn't part of my future, but I love coaching and whatever happens, I want train after next year, whatever that may be.
"I was really happy with what the group did on and off the field in Argentina, I'm really happy with the way the team played during the fall, especially in the last two games.
"It made me even more convinced that this team is capable of going up against anyone and beating anyone."