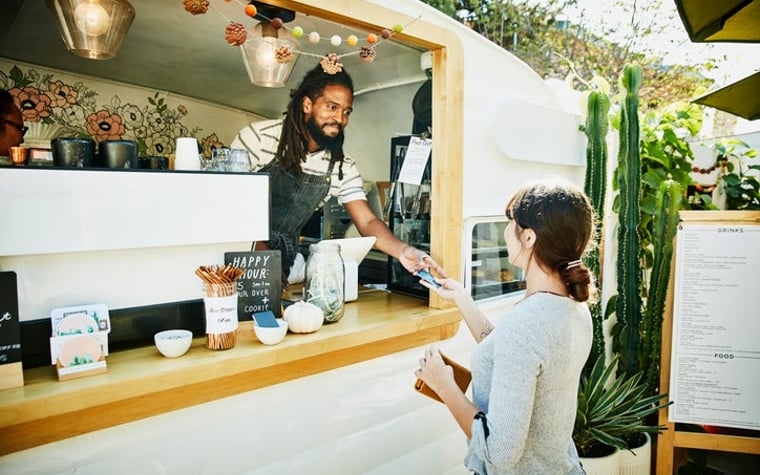 These great business ideas could be very rewarding both professionally and financially.
---
Key points
Starting a small business is a great way to take control of your future, enjoy the satisfaction of creating something out of nothing, and earn money doing something you love.
These 10 small business ideas are just the tip of the iceberg when it comes to potential opportunities.
---
Starting a small business can be an exciting and rewarding experience. It's also a great way to tap into your entrepreneurial spirit and earn some extra cash. But with so many different types of businesses, it can be difficult to decide which one is right for you.
You can start most of the small businesses below without having to spend too much money up front and break the bank. It's important to do a little research on each option before you start thinking. Remember that success comes from hard work, but starting your own small business could be very rewarding both professionally and financially.
To help you get started, here are the top 10 ideas for small business owners.
1. Online store
With the rise of e-commerce, starting an online store has never been easier and more popular. You can sell almost anything from physical products to digital downloads such as music, books or software. All you need is a website, a hosting plan, and a payment processor such as PayPal or a credit card processor. Or you can choose to sell on sites like Amazon or eBay.
2. Dropshipping
If you don't have the funds to buy and stock products yourself, dropshipping can be a great way to start an online business. With this model, you work with suppliers who deliver goods for you directly to your customers. That way you don't have to worry about managing inventory or dealing with shipping costs.
3. Blogging
Do you like to write? Consider creating a blog about topics that interest you so you can share your knowledge. There are many ways to make money with a blog. You can monetize it through affiliate links, by selling ads, or by selling products like e-books and digital downloads. Best of all, you can run it for free!
4. Freelance writer
If you have a knack for writing, consider becoming a freelance writer and selling your services online or in print. You can specialize in any subject that interests you, such as business writing, travel writing, academic writing, or copywriting.
5. Virtual assistant
As more companies turn to remote work options, virtual assistants are becoming increasingly popular among companies looking for administrative support without the need to hire in-house employees. If you have the skills to help with things like scheduling, data entry, and bookkeeping, starting a virtual assistant business can be a great way to make extra money from home.
6. Training
If you have a passion for helping people achieve their goals, consider starting a coaching business. You can specialize in anything from career guidance to health and wellness coaching. With the right marketing, customers flock to your services.
7. Professional services
Professional services such as marketing, web design, photography and accounting are always in demand. If you have a specialized set of skills or experience, consider starting your own service business so you can use those skills to help others while making money at the same time.
You can also become a consultant and monetize your expertise and knowledge. You can offer advice, training and guidance to other businesses in your area. You can also do this in combination with starting a blog or writing to increase your income.
8. Food truck
Food trucks offer a fun and exciting way to start a small business while giving hungry customers another great option when on the go. All you need is some cooking skills, the right equipment and a license to work in your state or city.
9. SEO marketing
SEO (Search Engine Optimization) is crucial for businesses that want their websites to rank high on Google when people search for keywords related to their products/services. As an SEO consultant/expert, you could provide advice on how businesses can improve their rankings by optimizing content, tracking analytics, and more.
In addition, more and more businesses are recognizing the value of an active presence on social media networks. If you have experience with social media platforms such as Twitter or Facebook, you could also provide social media management services for other organizations.
10. Purchase of franchise
Starting a business can be a daunting experience, regardless of the industry. Fortunately, you can choose to buy a franchise instead. While a franchise like a McDonald's location can cost millions of dollars, there are others that cost as little as $10,000. Buying a franchise means that you invest in an existing system and receive support from the franchisor. Franchising can help reduce business risks and speed up the time it takes to get your doors open and up and running.
Whether you're looking for a side hustle or a full-time career change opportunity, these 10 small business ideas are just the tip of the iceberg when it comes to potential opportunities. No matter what type of small business you decide to start, it's important to do your research before you start. Make sure there is a market for your products or services and know how much it will cost to get started. With the right planning and dedication, you can create a strong foundation for success as an entrepreneur. Good luck!
Warning: The card with the highest cashback we've seen now has a 0% intro APR until 2024.
Using the wrong credit or debit card could cost you dearly. Our expert likes this top pick, which has an introductory APR of 0% until 2024, a crazy cashback rate of up to 5%, and somehow no annual fee.
In fact, this card is so good that our expert even uses it personally. Click here to read our full review for free and sign up in just 2 minutes.
Read our free review