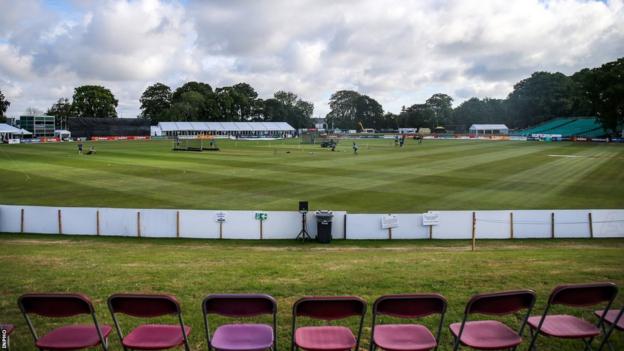 Cricket Ireland chief executive Warren Deutrom says the Irish government will begin "serious discussions" about the support it will provide to help make the new national cricket stadium a reality.
Deutrom believes Ireland's co-hosting of the 2030 T20 World Cup has piqued the government's interest.
But he says work on the National Sports Campus area would have to start next year to be ready by 2030.
Deutrom said the government had "fired the starting gun" to start negotiations.
"We have a long way to go but this is a very important step," Deutrom told BBC Sport Northern Ireland.
"In November, the government confirmed the intention to build the stadium in due time.
"The next taxi out of the range for us was to ensure there was a degree of urgency to develop it as quickly as possible and the government announcement on that over the weekend was obviously great because it means we can get serious about looking at the feasibility of this."
Stadium plans announced in 2018
Cricket Ireland initially announced plans for a new stadium at Sport Ireland's Dublin campus in 2018, but the project was always dependent on significant financial support from the government and Deutrom believes the prospect of that happening is now much closer.
"The government has a policy to attract big sporting events, so I have no doubts about that [co-hosting the 2030 T20 World Cup] helped focus the government's attention on insurance, here's a reason not to miss it," he added.
"One of the key considerations when the government looks at its list of major events, whether it's the Rugby World Cup, the European football championships, obviously the Ryder Cup at Adare Manor in 2027, is that they all take place or would take place outside the National Sports Campus .
"We're offering the opportunity to bring the world's second biggest sport, its main event to the National Sports Campus and I think that's something we can bring as a point of difference probably to all the other major sports."
World-class facilities at the National Sports Campus already include the National Aquatics Center while planning permission for a new velodrome on the site was granted earlier this month.
In November, Irish Sports Minister Jack Chambers said the Sport Ireland campus should be "the home of Irish sport" and Deutrom says Cricket Ireland's vision is in line with that.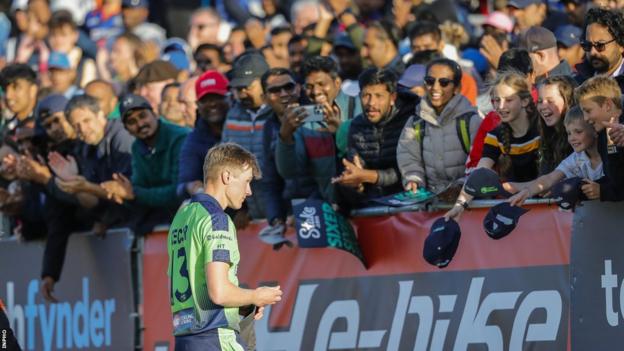 "The vision we have has to be very close to Sport Ireland's and our own government's vision for campus infrastructure to be 'world class'," he said.
"Realistically, we're not looking at a 90,000-seat MCG (Melbourne Cricket Ground) and probably even 50,000 seats like the Aviva Stadium will be too ambitious."
Deutrom pointed out that 8,000 people attended the two Twenty20 internationals against India in Malahide last June.
"We sold out in about 24 or 48 hours. We always ask ourselves 'what if we kept selling and how far could we go for our biggest games?'
"When you consider that the broadcast reach of those games has grown to 200 million worldwide. Those are numbers that other sports probably only dream of.
"It's the biggest sport in the world for about 20 to 25% of the world's population, so we're a very, very significant sport.
"And what we're doing is kind of using our global visibility to try to create a sense that we're a big sport here."
'More than a million pounds are spent annually on temporary facilities'
Cricket Ireland spends more than £1m a year erecting temporary facilities at its current international stadiums – Malahide, Stormont and Bready.
"If we could invest that back into people and programs and help our clubs be able to develop their own infrastructure, that would be a much better use of our money," Deutrom added.
"There's also the environmental impact of trucks transporting temporary equipment across the country."
Deutrom says the amount of international cricket in both the men's and women's games at senior and youth level, plus various inter-provincial competitions, means the current venues will continue to be needed for international competitions.
"We have over 80 professional level matches that we play so it's important to reassure our other stakeholders and venues across the country, whether it's Stormont, Malahide, Bready, that we will still need their facilities."