Manager Erik ten Hag says Man Utd are close to completing a deal for loan signing Wout Weghorst – but that he will not join the club in time for Saturday's Manchester derby.
There had been hopes that United would have the Dutch forward ready to face Man City at Old Trafford in the lunchtime kick-off, but Ten Hag confirmed ahead of the game that Weghorst was not registered by Friday's midday deadline.
"I think we are close," Ten Hag told reporters when asked about the Dutchman. "But he wouldn't be available for tomorrow. Hopefully that will be soon, he'll be there."
Weghorst's move appeared to be a step closer on Friday night when Besiktas confirmed his loan deal had been terminated. The Turkish club say they will receive £2.5m in damages.
United could be boosted by the inclusion of Anthony Martial if the forward recovers from a foot problem in time for the game, but otherwise will again be limited in attacking options with a move for Burnley striker Weghorst still unfinished.
One player who will certainly be missing is Donny van de Beek, who Ten Hag have confirmed is out for the rest of the season due to injury.
"Long-term, he looks really good, he'll be back at the start of pre-season," Ten Hag said. "He is gone for the rest of the season.
"I think everyone's thoughts are with him. It's terrible when you're in a season and you get a bad match, a bad injury. It's always really disappointing, and the thoughts, the feelings are with the player. You put it, our group is very good, and now we are happy that his knee is fine in the long term."
Ten Hag: Casemiro is among the best in the world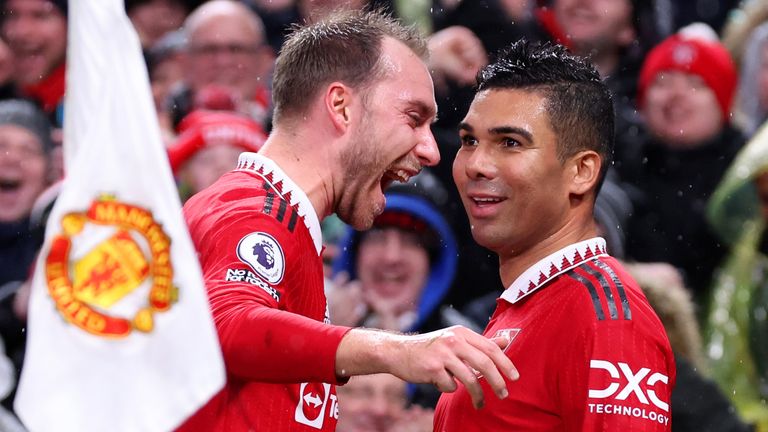 The Manchester United manager was also asked about the impact £60million Casemiro has had at Old Trafford since his move.
Since the return of domestic football last month, United have conceded just one goal in six games thanks in part to the Brazilian's dominance in midfield, and he again showed his attacking side with a goal in the 3-0 win over Bournemouth on January 3.
Ten Hag beamed with admiration for the 30-year-old, who has already become an invaluable part of United's midfield.
"He's so important," said the manager. "He is the cement between the stones. His defenses, his organization, anticipation, support for players in the right position, winning balls for the team and duels.
"But also in possession, he can speed up the game. He has that ability to deliver to a top team.
"There aren't many who have this quality in the world, he's one of them so we're really lucky to have him – he makes a big difference."
'This period is about positioning to win trophies'
Victory in the Manchester derby would move United a point behind City, almost completely closing the gap that has grown in recent years to 35 points by the end of last season.
Ten Hag played down any significance of the opportunity for his side to close in on their rivals and instead focused on United's positioning in the table ahead of a relentless run through the second half of the season.
"The season is not even half way. This is the second time we face Man City, but there is a long way to go," he said.
"This period of the season is to put yourself in a position where you can win trophies at the end of the season, so you go game by game and don't look too far ahead.
"We have to prove it [our improvement] tomorrow on the field, that's the only proof. Last time it didn't work, so tomorrow we have to do better.
"It doesn't come overnight, there was a process. In the last months, where we developed and improved. Now we faced better teams, we are looking forward to it. One of the things is the mental approach and attitude.
"We have to act with faith and play our game."