Watch We Are England – Born to Race on
BBC iPlayer
. The second episode airs on Monday 9 January at 20:00 GMT.
Ruben Stanislaus and Lewis Appiagyei are young, black British drivers with ambitions to reach Formula 1.
A new two-part series on BBC iPlayer, We Are England: Born to Race, follows the young men and their families on their journeys to try to become professional racers, including meeting the first and only black Formula 1 driver, Lewis Hamilton.
Stanislaus, 18, started karting at the age of four. Appiagyei, 19, started racing when he was five years old. They first met in 2011 at Buckmore Park Karting, in Kent – the same track where their hero Lewis Hamilton trained as a child.
Both drivers represented their country, won over 400 trophies and broke track records at Buckmore Park. Their goal is to move from karting to professional racing and eventually break into Formula 1. Their future success cannot rely on talent alone, but on continuing to secure sponsorship and support.
Both young men have thrived in the world of professional racing. Stanislaus secured a place in the driver development program, while Appiagyei was given a number of opportunities, including testing an F3 car.
But both told the BBC they faced obstacles in the sport because of their ethnicity. Throughout the series, both young men explore the lack of diversity within motorsports.
We also get an insight into the struggles their families face to try and finance what is a very expensive career.
'I was disqualified because I was too fast'
In the first episode, Stanislaus describes his friend Appiagyei, whom he first met in Buckmore Park, at the age of seven.
"Back then it was very rare to see another driver of color," he says. "To see someone who looked like me, you naturally work with the person and understand where they're coming from."
During the documentary, Stanislaus describes situations in which he feels discriminated against because of his skin color.
"When I was doing karting, there were even some races where I was disqualified because I was too fast," he explains. "They accused me of cheating, they checked the car, they checked everything. Everything was clean. We never cheated – we even had a slower car than most people, but personally I feel it was related to my race. I can't remember any another reason."
Stanislaus' dad Steve, 58, believes his son's skin color means he has to be "twice as good" as his white peers to succeed.
"If people in positions of power aren't like you, it's going to be harder to impress them," he says in the series.
Meanwhile, Appiagyei says that while he has never faced direct discrimination, he believes there is a "lack of opportunity" in motorsport for "people who look like me".
Meeting with Hamilton
During the second episode, both young men were invited to meet their idol, Lewis Hamilton, at Mercedes headquarters.
Hamilton, 37, is the first and only black driver to ever compete in Formula 1. In conversation with Stanislaus and Appiagyei, the seven-time world champion shares some of his experiences as a black athlete in motorsport.
Hamilton says that "being the only person of color on the track" was his biggest challenge when he started playing the sport.
In 2019, the veteran driver founded the Hamilton Commission, with the goal of improving black representation in motorsports.
Research The commission suggested in July 2021 that the proportion of blacks in Formula 1 is less than 1%.
"There's a lack of diversity across the big, big companies, organizations, from the top, all the way down and there's very little black leadership, so I put together this commission to try to find out what the barriers are for underserved communities to get into this sport," he says. Hamilton.
"Why aren't they applying for jobs, why aren't they feeding themselves through university? Also, people especially of African and Caribbean descent, their parents – because they don't see anyone here who looks like them, they don't think, 'that could be me.' "
Beyond representation, Hamilton suggests that finances could be a barrier to entry for some communities.
"The problem with our sport is that it is expensive," he adds.
The cost of competing in motorsport
Competing at karting level can cost tens of thousands of pounds, with costs rising at professional level.
Stanislaus' dad, Steve, says the odds are against those with less money.
"It's not a level playing field, period," he says. "You look at the front end of the network – those tend to be the ones with the most money and background."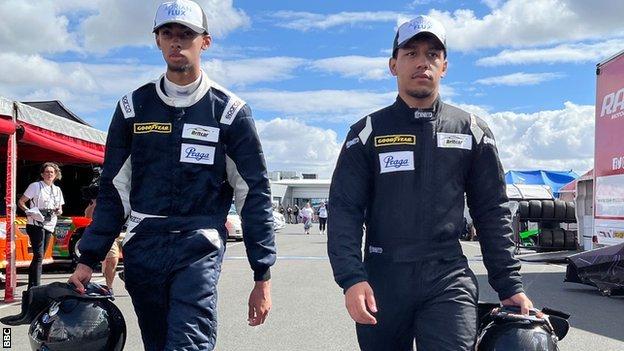 "You can have all the talent in the world, but if you don't have the money, you won't make it," says Appiagyei.
In order to race professionally, both young men must obtain a professional driver's license. As part of that process, during the film, they go to a practice day at Silverstone, as well as several other professional car races, to get the required eight different signatures. It cost their families £8,750 each.
Stanislaus' mum, Sophie, describes juggling two jobs to support her son. "We covered everything, but now it's gone to another level," she says.
Similarly, Appiagyei's mom, Sabine, talks about the stress these finances put on the whole family.
She says: "The spending is so high that you're constantly thinking, 'how can I get more money, how can I save more on other things'?"
To get a place in the professional race at Donington Park, they need to raise £20,000.
As Steve says, in the first episode, "You have to find the money to drive the car. Without it, the career just stops."